Sometimes a hiccup in your plan can lead you to discover hidden gems. That is what happened to me and a friend last night. We had been planning to do an English tea dinner at Tea and Sympathy in the west village of NYC. Low and behold, we arrive to find a sign on the door reading "sorry, no scones." This is like the time in college that Panera ran out of bread… it's just something that should not happen! Thrown off and dissapointed, we decided we absolutely needed scones in our dinner, so we went to the trusty smart phone and decided to try Bosie Tea Parlor at 10 Morton Street in NYC.
The atmosphere at Bosie was really nice. When you walk in there are about 6 tables to your left and a small bar with a large pastry display straight ahead. At 7 PM on a Friday night it wasn't too crowded, but there were a few tables taken.  It was perfect for a quiet dinner or even a shared dessert after a nice date in the neighborhood. The walls are lined with copper tins of tea, the tables are wood with a simple white vase and flowers on each, and the lighting is dim, but not too dark that you can't see anything.
The menu and selection was pretty good for what we were looking for. I don't think they're known for their dinner, but we were really just there for the tea and scones. The tea menu in and of itself is like a novel with all types of black, green, white, and herbal teas.  The menu options included 3 tiers of afternoon tea service, a variety of quiche, salads, soups, and a cheese platter where you can select 3 or 5 cheeses. We ended up sharing the tea for one and the 3 cheese platter. Tea for one included a small pot of tea, a choice of 3 types of finger sandwiches (2 triangles of each sandwich), 2 macarons, 2 tea cakes, and 2 baby scones for around $23.
The cheese platter came with 2 baby baguettes, very generous servings of the cheeses, walnuts, golden raisins, figs, and honey for $15.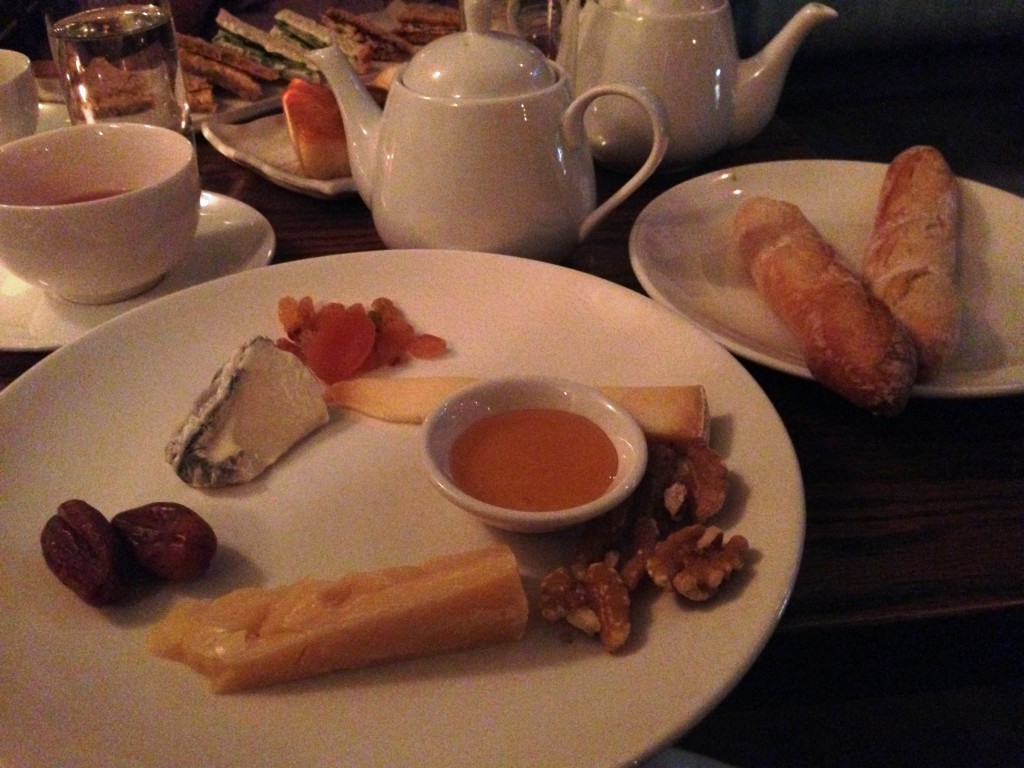 The food and drink did not disappoint. For the tea I had the detox blend which was a black tea with some hints of vanilla and rooibos. It was very fragrant and flavorful without needing any sweetener. The small pot was more than enough for 2 large cups of tea.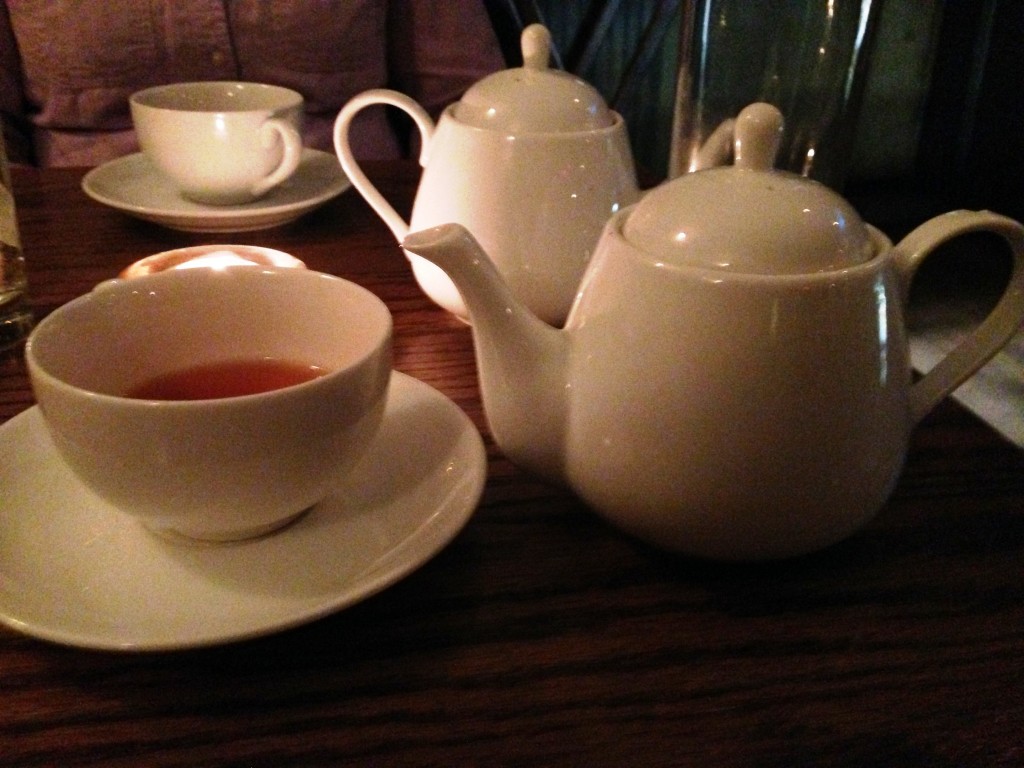 We picked the curried chicken salad, cheddar and braxton pickle, and cucumber, dill and cream cheese tea sandwiches. The chicken was my favorite as it had a nice smokey flavor and the curry wasn't overwhelming. The cucumber and dill was great too, the dill was very fresh and shone through to add a pop of brightness to the sandwich. There was a little too much braxton pickle in the third sandwich, and the cheddar was cut into shards rather than nice thick slices.
The tea cakes were lemon and matcha green tea. The lemon was nice and light and not too lemon-y, which is always a risk with a lemon dessert. If you like green tea, you will love the matcha cake. It was not sweet, and had a very strong flavor. I loved it, but couldn't have more than one bite. The macarons were good too. No match for La Duree, but they had a nice creamy center. The shell was a little on the hard side, but it was the end of the day. I had the pistachio macaron, my go to flavor.
And of course, the scones. We got 2 baby scones, which were the perfect size to go with our meal. The scones are a bit on the sweet side, and are sprinkled with some large grain sugar on top. They are served traditionally with clotted cream and raspberry jam. The raspberry jam was my favorite part. It was super fresh really delicious.
The service was a bit disapponting, I have to say. Though the 2 members of the staff that we spoke to were very nice and friendly, our water glasses were not refilled the entire time we were seated. Also, the check was brought to us without anyone checking in to see if we needed anything else. When we said that we did need 2 scones to go, they handled it very quickly, though.
Overall, this was a great find and I definitely plan to stop in to Bosie again when I find myself in the mood for dessert and tea in the west village.