My passion for food was sparked when I was younger and we got a DIRECTV package that included the Food Network. Even to this day, shows about food are my default background noise. One of my favorite shows is Top Chef– in fact, when my husband and I are at any sort of new restaurant or food event, we always pretend we're judges critiquing a Top Chef challenge. One of the staple challenges in Top Chef asks the chefs to reimagine the dish that inspired them to become a chef. This week, I gave that challenge to myself and was really happy with the results.
The dish is Penne ala Vodka. It is the first dish that I made with my best friend growing up. I still have memories being in her kitchen with our recipe– sometimes making the dish WAY too spicy, and other times nailing it. This dish has also been something I have carried with me throughout the years. Seriously, I used to have the recipe on an index card in my wallet. I made it for my high-school boyfriend on his birthday. I made it as a thank you for one of my first bosses. I even made a dairy free version for a close friend in college who had an allergy.

This version looks much different than the vodka sauces of my past… for starters, a serving only has about 400 calories (including the cup of pasta). But I promise you it still feels indulgent and special.
Here's what you'll need:
1 Tbsp olive oil 
1 onion, diced
2 Tbsp tomato basil paste (or regular tomato paste)
4 oz mushrooms, rough chopped
1 Tbsp vodka
1/2 cup spicy marinara sauce
1/2 cup water (from the pasta cooking if possible)
1 cup baby spinach, torn
2 Tbsp heavy cream
garlic salt and red pepper flakes to taste
4 oz dry pasta, cooked according to box directions (I used elbows)
So  you can probably already tell from the ingredient list that this is not ordinary vodka sauce. But it does have both of the staples– vodka and heavy cream. To start, cook your pasta according to the instructions on the box.
In the mean time, time to start the sauce. Sauté your onion in olive oil over medium heat for 1-2 minutes until onion becomes transparent. Add tomato basil paste and mix to distribute evenly. I always have tomato paste in my fridge and have started buying it in a squeeze tube since recipes always call for 1-2 Tbsp rather than a whole can. Recently I found a tomato basil paste, which makes me even happier!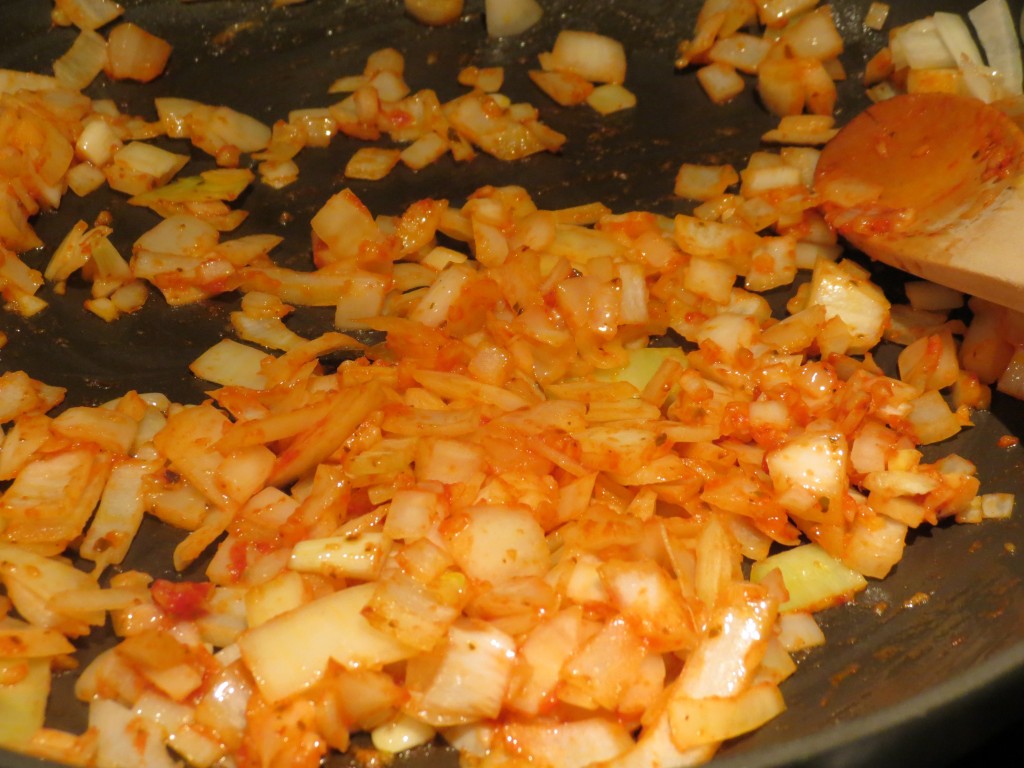 Add in mushrooms and cook for 2-3 minutes until they start to brown in spots. At this point you should add a little garlic salt to help draw the water out of the mushrooms as well. Next, add the vodka. This is not one of those fun alcohol recipes where you get to light anything on fire. You just need to let the alcohol cook out of the vodka, but considering how early in the recipe you're adding it, it shouldn't be a problem.
Now it's time to add the marinara sauce. I always like to buy fun flavors and this week I had spicy marinara sauce. You might be surprised by how little 1/2 cup is, but that's why we added the tomato paste… and that's why we're doing this next step: add 1/2 cup of water. The 1/2 cup of tomato sauce actually finished my jar, so I just put the water into the empty jar and swirled it around to scoop up any remaining sauce that was clinging to the jar. You can do the same, or you can actually take some water out of the boiling pasta pot. This water will have some starch in it which helps the sauce stick to the pasta.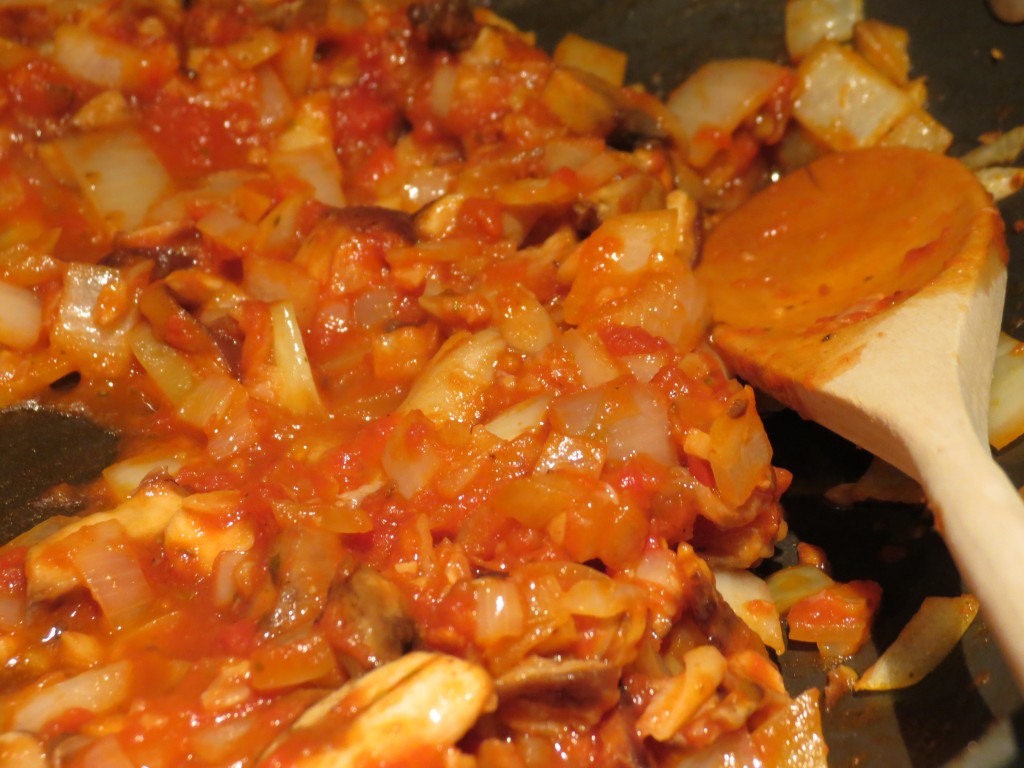 Next, you'll want to add the spinach, which should wilt and melt into the sauce pretty quickly. Now time for the creaminess: 2 Tbsp of heavy cream. I wouldn't substitute this– trust me, it's worth it!
At this point, you'll want to season the sauce to your liking. I like things spicy, so I put about 1 tsp of red pepper flakes and a bit more garlic salt. Reduce heat and simmer for 3-5 minutes or longer if your pasta isn't ready yet. Then all you do is add the pasta in to the sauce and toss to coat.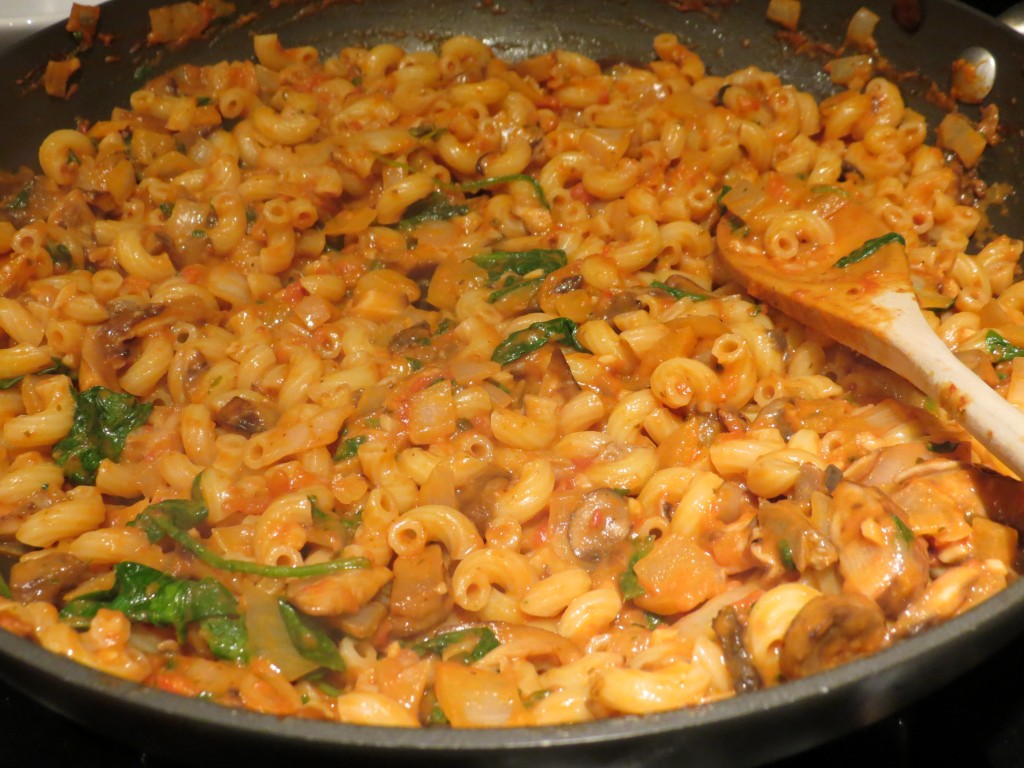 You will be amazed at how much pasta this makes. The veggies in the sauce really help bulk this out and make the indulgence last much longer than just pasta with vodka sauce would on it's own.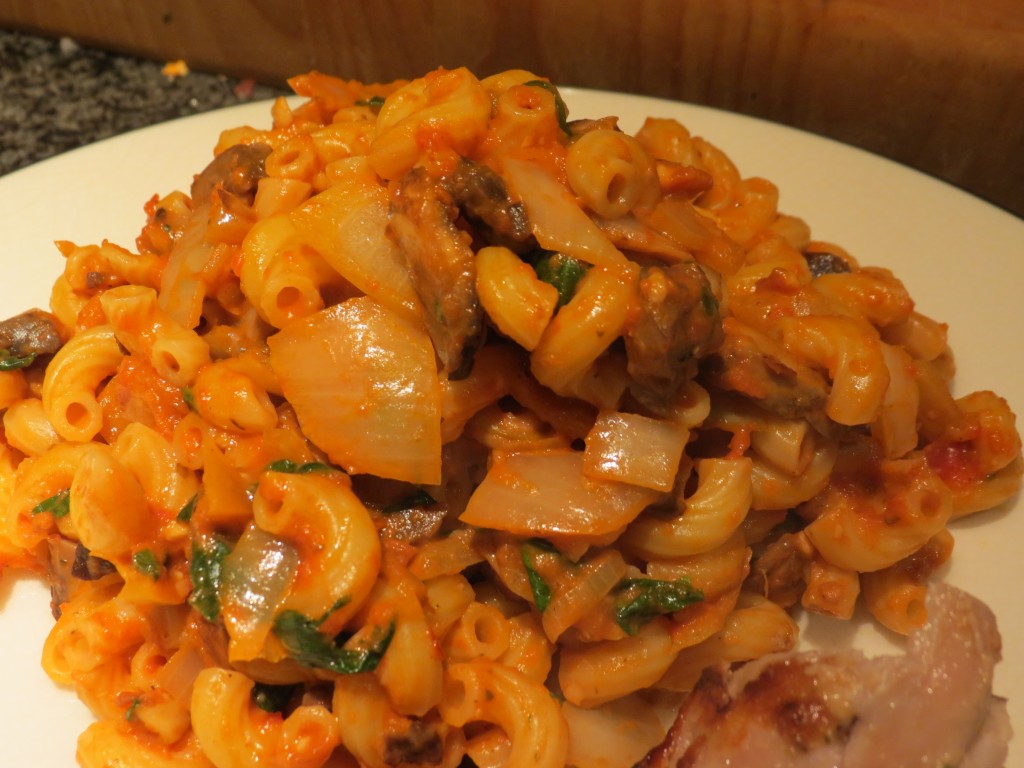 I was a little skeptical of how my new vodka sauce would go over, but it was just as big a hit as it always has been. It just grew up… and slimmed down! What's your signature dish?