I don't know about you, but the way I pick out most fruit is by look and smell. If it smells like a pineapple, it's probably ripe. If the strawberries and bright red and smell sweet, they're probably great! This week I learned that looks and smells can be deceiving. But you know what they say… when life hands you underwhelming strawberries and you have a lemon in the fridge… make strawberry shortcake cookies!

I hadn't ever made anything like this before, but some posts on pinterest inspired me to try this recipe. It was pretty simple, didn't have any eggs in the batter (guilt free dough eating), and I happened to have most of the ingredients on hand (and substitutions for the ones I was missing)… in my book, that means you make the cookies.
Here's what you'll need:
12 oz strawberries, about 2 cups of small dices
1 Tbsp fresh squeezed lemon juice
1/2 c + 1 Tbsp granulated sugar, divided
2 cups all purpose flour
2 tsp baking powder
1/2 tsp salt
6 Tbsp cold, unsalted butter, cut into small pieces
2/3 c skim milk + 4 tsp cornstarch (or 2/3 cup heavy cream)
Since this was a new recipe, there are definitely some modifications I would make. This post will reflect the modifications, even if the pictures don't totally align. For example, the heavy cream substitute online was for 1 cup of cream so instead of quickly calculating the amount of corn starch, I just made 1 cup and then had to figure out how to pull out 2/3 from its new whipped volume… let's just say it was an adventure in math and grams that could have been avoided.
Pre-heat oven to 350*F. And now it's time to prepare the strawberries. 12 oz was about 3/4 of a pint. The trick I learned from my summer in the bakery is that the best way to clean strawberries is to use a damp paper towel to wipe them clean that way they don't absorb too much liquid in the rinsing process. Remove the green top of the strawberries and cut into a small dice (my pieces were a bit too large and would have incorporated themselves into the dough better had they been smaller). Add lemon juice and sprinkle with 2 Tbsp of the sugar. Set aside to marinade (and watch the delicious juices come out!)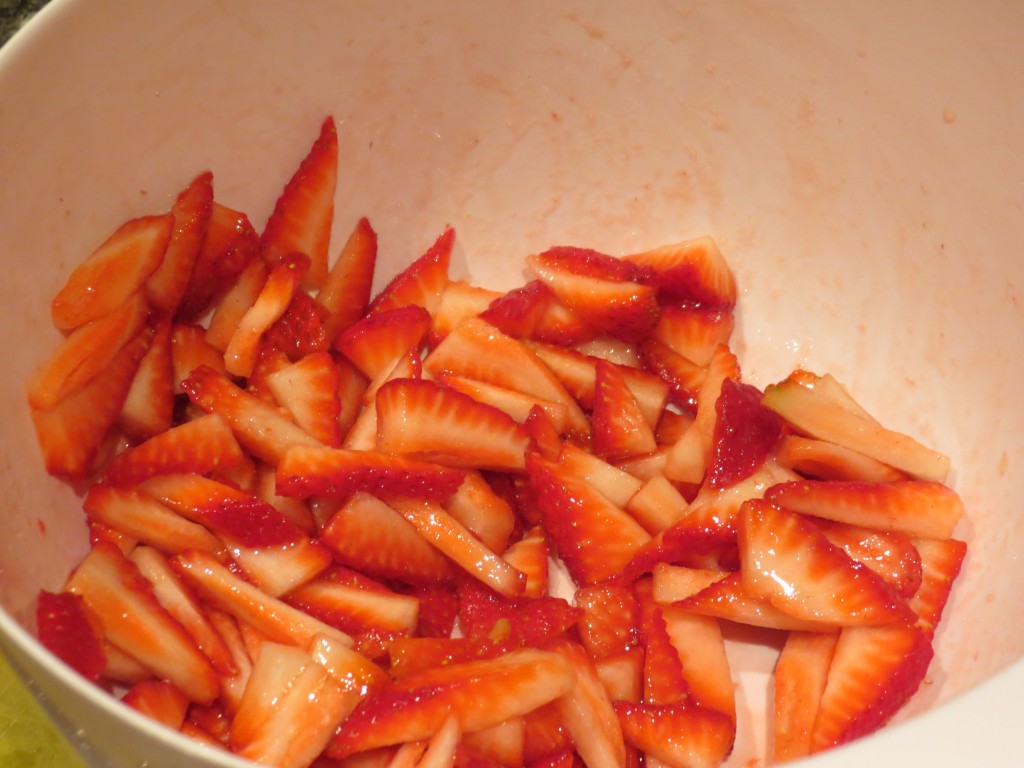 The rest of the dough is essentially biscuit dough (as a classic strawberry shortcake tends to be). Sift together flour, sugar, baking powder, and salt. Using a pastry blender, 2 knives, or your hands incorporate the cold butter until the mixture resembles coarse crumbs. If you are using heavy cream, add this in. If you are making your own, whip together skim milk and cornstarch until thick. I used the whisk attachment of my immersion blender and this took about 30 seconds (I love that attachment).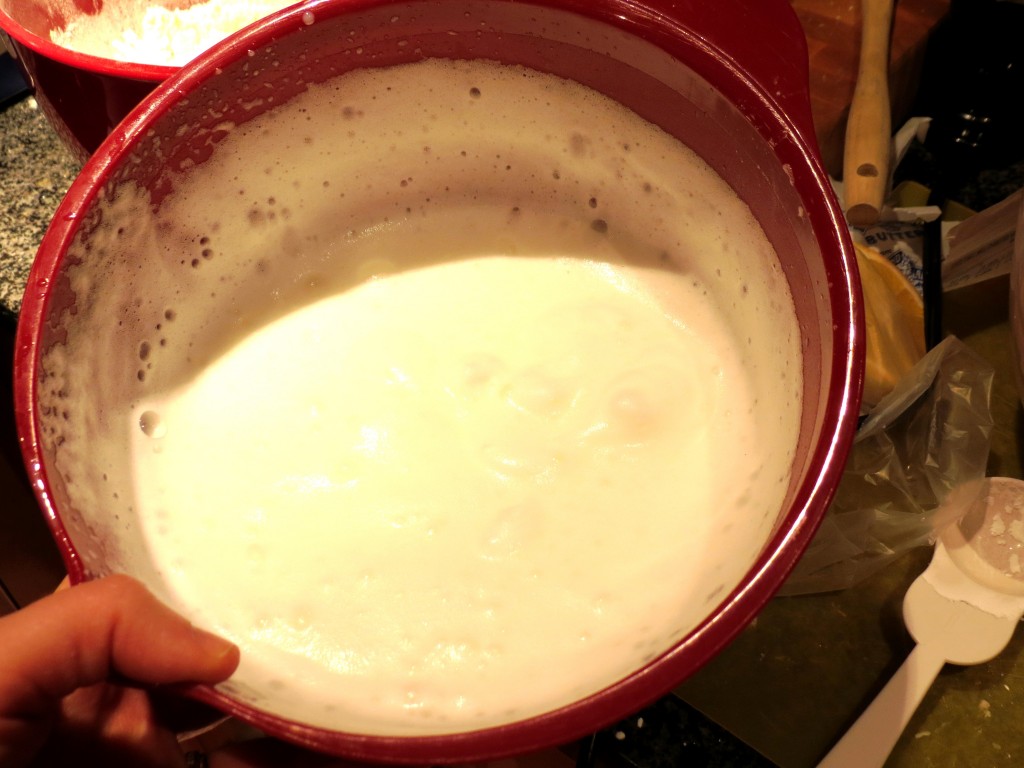 Pour your faux cream into the flour and butter mixture and stir until incorporated and a dough begins to form. Your dough will feel a little dry and there may still be some flour that hasn't come together, but remember, this is not your average cookie!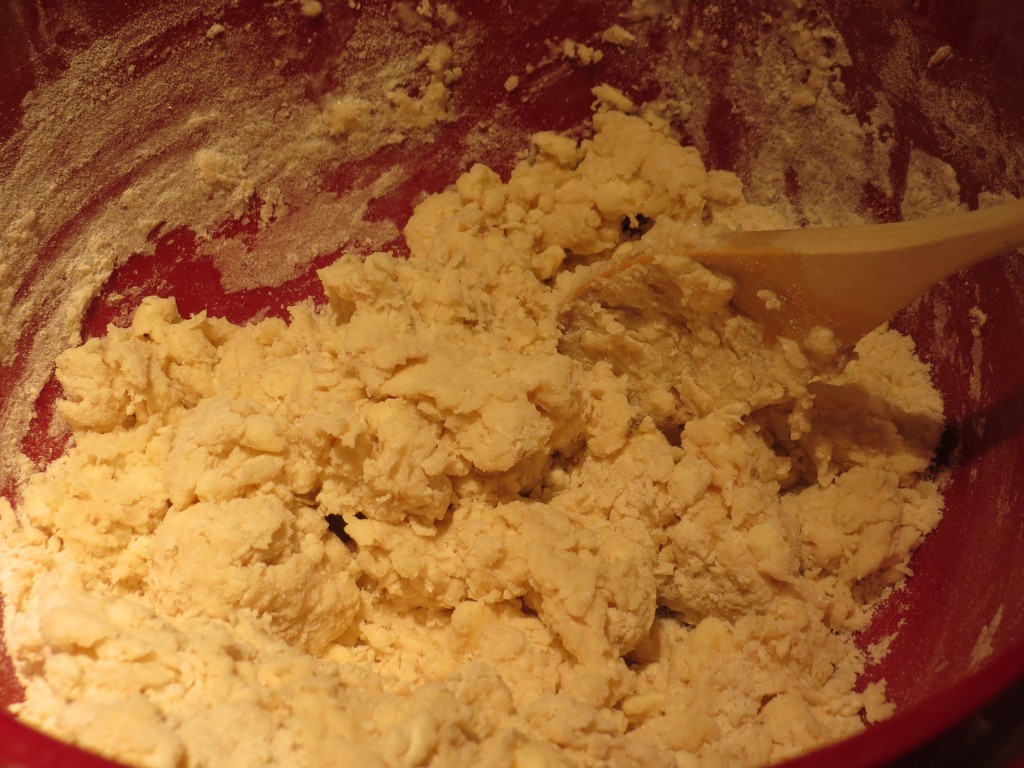 Next, add in the strawberries and mix. The additional moisture that has come off the strawberries is exactly what you need to complete the dough and get it to the right consistency.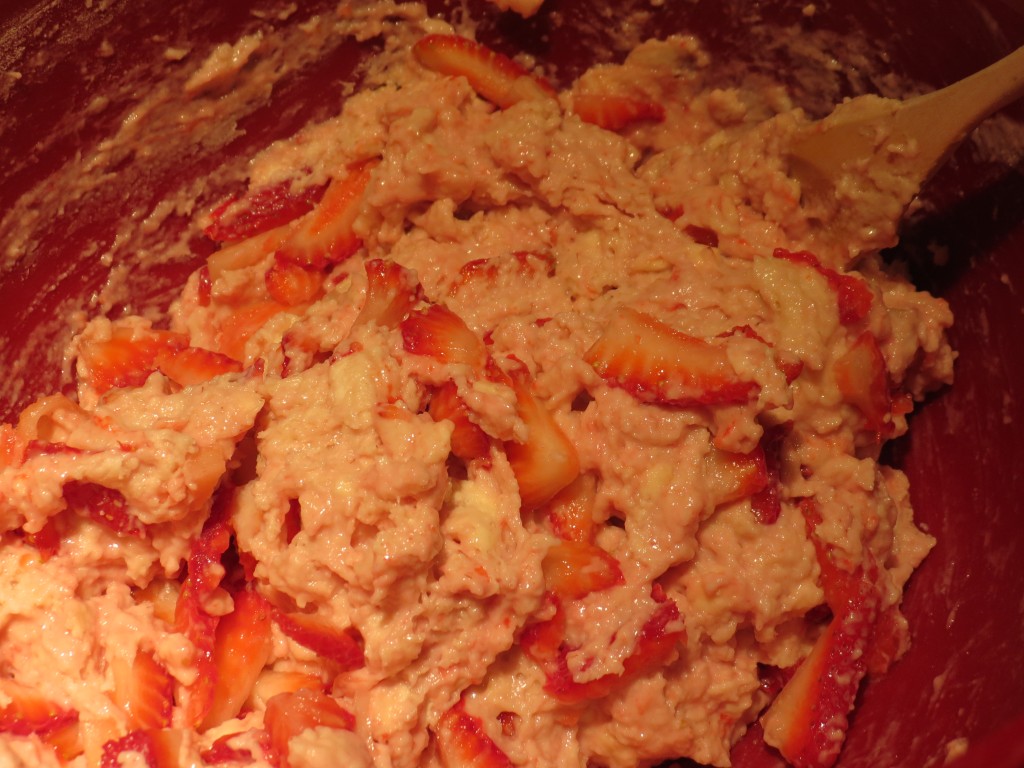 I used a tablespoon measure to ensure the cookies were approximately the same size, which worked well because the dough is quite sticky. Before you put them in the oven, sprinkle some sugar on top (sanding sugar if you have it, or granulated sugar).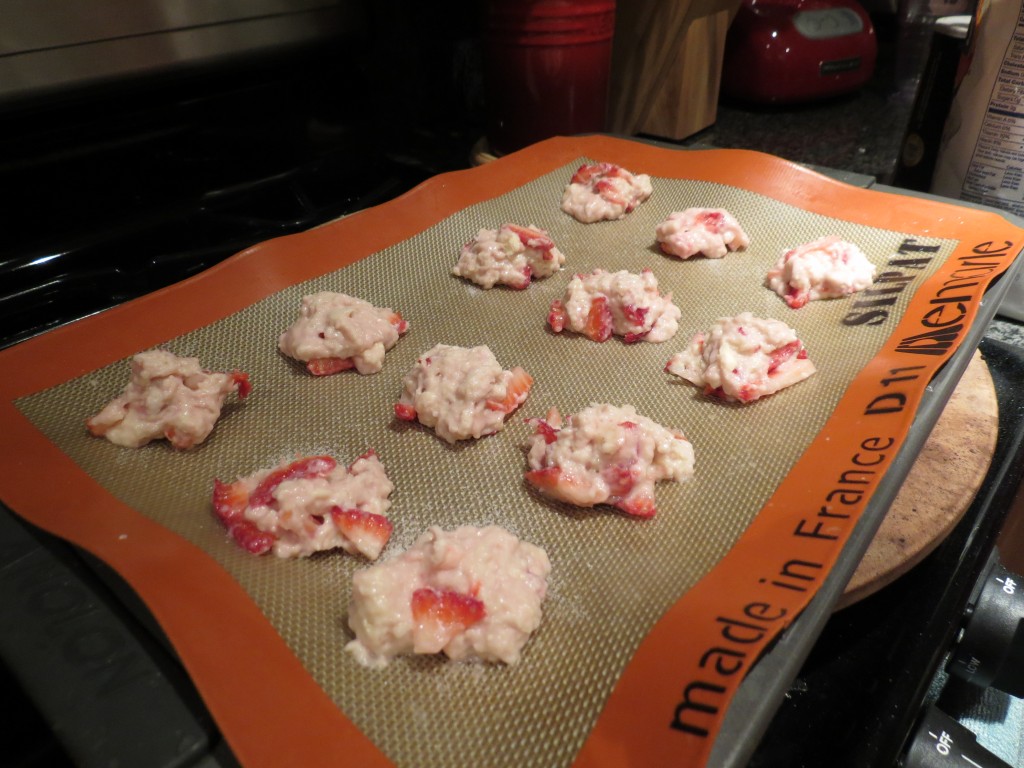 Bake at 350 for 24 minutes, rotating your sheets between shelves halfway through to ensure even cooking. Let cool slightly and enjoy immediately.
What results is a very unique cookie that is essentially a strawberry shortcake biscuit. The texture is great right out of the oven, the edges are a bit crispy and the middle is nice and fluffy. These cookies are not very sweet, though. There is only 1/2 cup of sugar in the entire recipe and it makes about 2.5 dozen cookies. My husband deemed these cookies great, but not worthy to be taken into his office (they prefer more "traditional, sweet cookies" apparently). The disappointing thing about these cookies was that they did not keep very well. They were amazing the day they were baked but even the next afternoon they had dried out a bit. I was able to revive them by putting them in the oven at 350 for 5 minutes, but I learned that these would be best served at a brunch or dinner party where everyone can have them fresh and you can make sure to finish them in one sitting without too much guilt!