What is it about peanut butter that makes it so delicious? It's creamy. It's rich. It's comforting. And there's nothing quite like the original. These days there are a lot of lightened up versions as well as alternatives for peanut butter, but none of them will ever be as good on a sandwich with strawberry jelly. That being said, it can be possible to get a nice rich, indulgent flavor out of the other versions… but you have to know how to use them. Today's lesson involves PB2, a powdered peanut butter with 45 calories per 2 TB serving.
The trick with PB2 is to mix it into recipes where the peanut butter flavor is important, but not necessarily the star of the dish. This was my theory when creating a lightened up version of a Chinese (American) restaurant classic: cold noodles with sesame sauce.  Staying true to the MichDish philosophy, I also snuck a bunch of veggies in there to help bulk up the dish without too many extra calories!
Here's what you'll need to serve 2:
1 bundle soba noodles (about 3 oz) or spaghetti
1/2 red bell pepper
1/2 medium cucumber
10 baby carrots
2 Tbsp PB2
2 Tbsp low sodium soy sauce
1 tsp sriracha (or less to taste)
1 tsp honey
Cook soba noodles according to package directions. While they are cooking, cut up veggies into roughly equal sizes. I tend to prefer small cubes so that they can get evenly distributed in the noodles. And if you're feeling really fancy, you can shred the carrot. This is the best way to get my husband to eat more veggies because his philosophy is to only eat the veggies that get caught in his fork and none of the ones that fall off.
In a bowl or salad shaker of your choice (I prefer old salsa jars), mix PB2, soy sauce, honey, and sriracha and shake until combined. 1 tsp of sriracha makes this moderately spicy, so add less if you prefer!
Toss together and refrigerate until the rest of your meal is ready!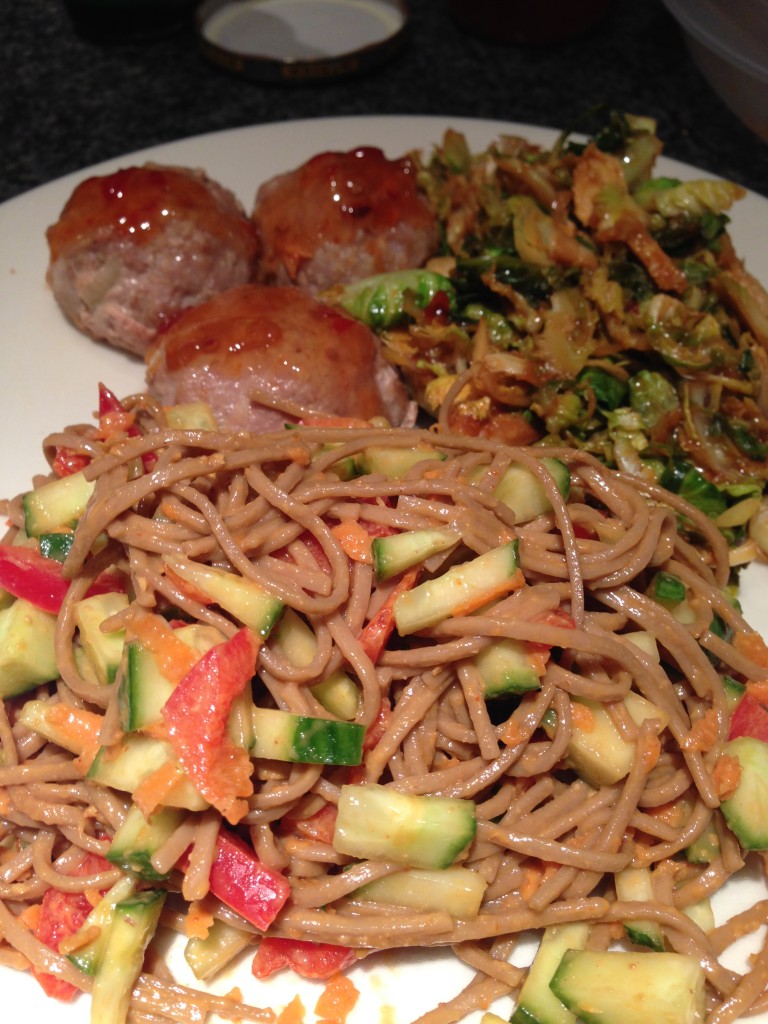 The result is a great side dish that is loaded with veggies and feels indulgent and creamy even though it has less than 200 calories per serving! You can even leave it overnight for a great make ahead meal.