When it comes to summer, the last thing you want to spend too much time doing is standing in front of a hot stove or oven. Sadly, this can lead to a lack of cooking during the hot summer months. But it can also lead to the creation of some delicious and quick recipes that take advantage of fresh produce that is in abundance this time of year.
This week I bought some rainbow chard and took a pretty big risk: creating a recipe that highlights the vegetable as opposed to hiding it (my normal MO for getting my husband to eat healthily). I had bought some maple mustard pork and some bread so needed a pretty simple recipe to compliment the meal.
Here's what I came up with:
1 Tbsp olive oil
1/2 Tbsp butter
1 onion thinly sliced
1 bunch of rainbow chard, stems and leaves chopped roughly
1/4 tsp garlic salt
1 tsp bouquet garni (or italian seasoning)
2 Tbsp water
1 Tbsp fig balsamic vinegar (or balsamic vinegar and honey)
1/2 Tbsp lemon olive oil (or 1/2 tsp lemon zest)
Heat a large skillet over medium high heat and add butter and olive oil. The combination of both is one of my favorite tricks for really deep and robust flavor that makes your dish feel guiltier than it is. Add the onions and saute until golden brown. In the mean time, prep the rainbow chard. Rainbow chard is so fun and colorful– it's almost too pretty to eat! I was a little sad that my batch only had yellow and white stems– I think the red ones are really awesome too!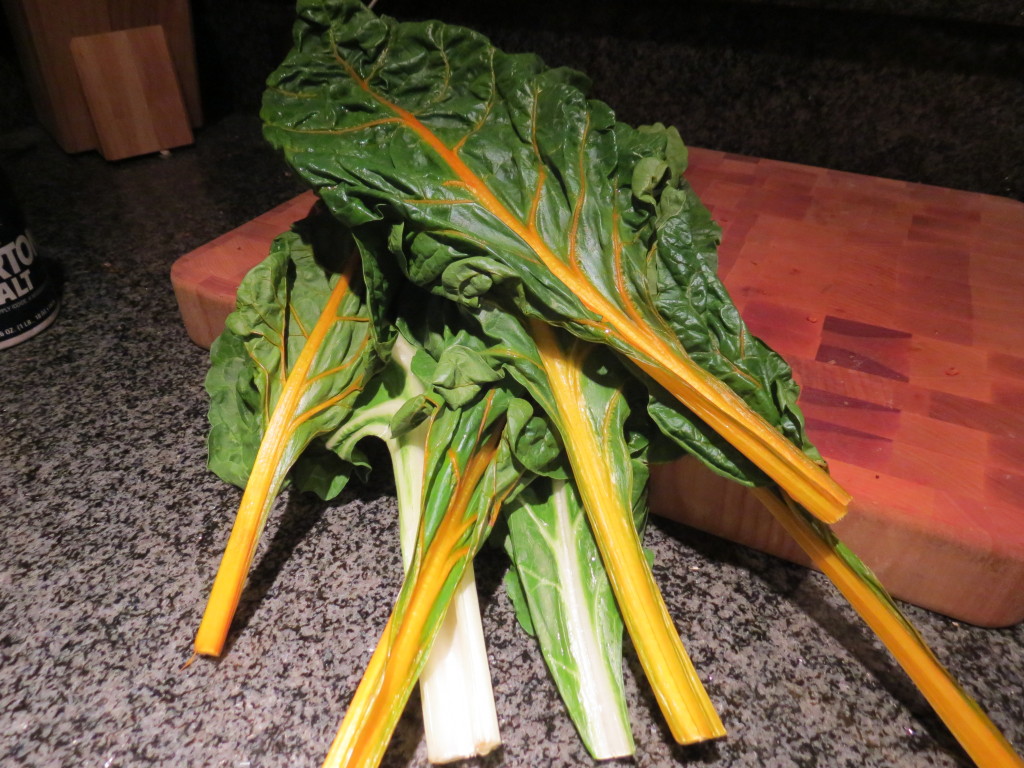 In order to prep the chard, wash well and then trim the bottom of the stem (about as much as you would cut off from the top of celery). Slice the rest of the stalk thinly and rough chop the leaves. You can eat most of the stem, I just usually cut off the parts that are too thick, but they add a nice crunch to the dish! If you don't like the stem, you can just cut the leaves off and discard it. Once the onions have been cooking for about 3-5 minutes, add thinly sliced chard stems (these will need a little more time to cook than the leaves).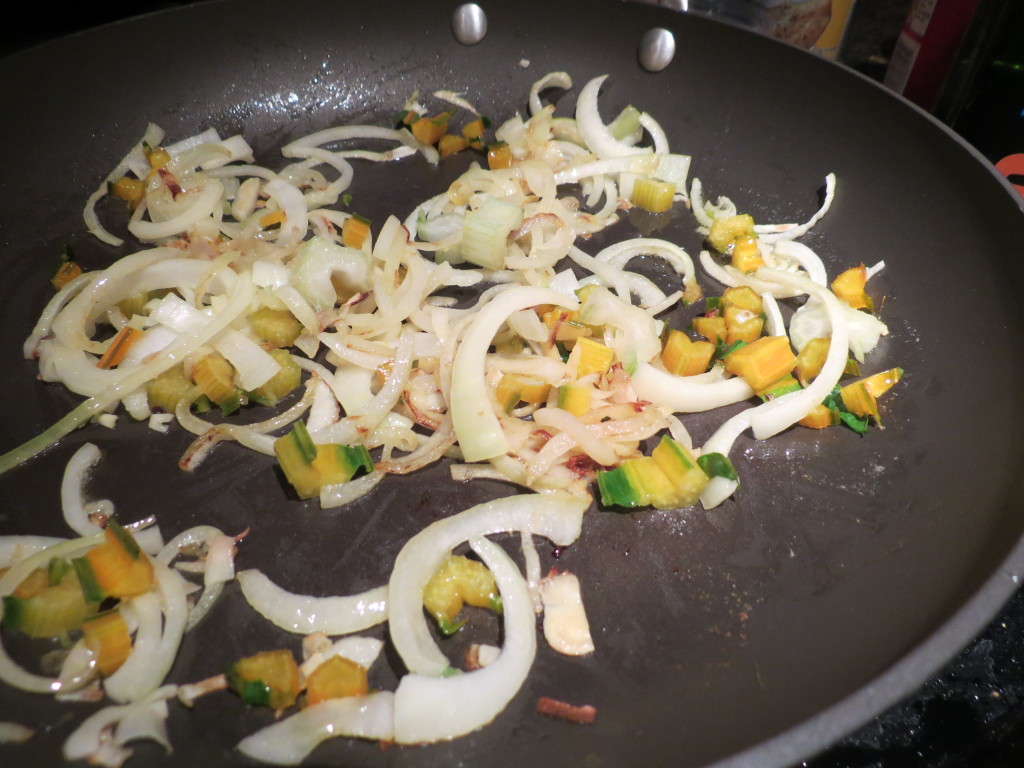 The chopped chard will look like a giant amount, but like all other greens it will really shrink down once cooked.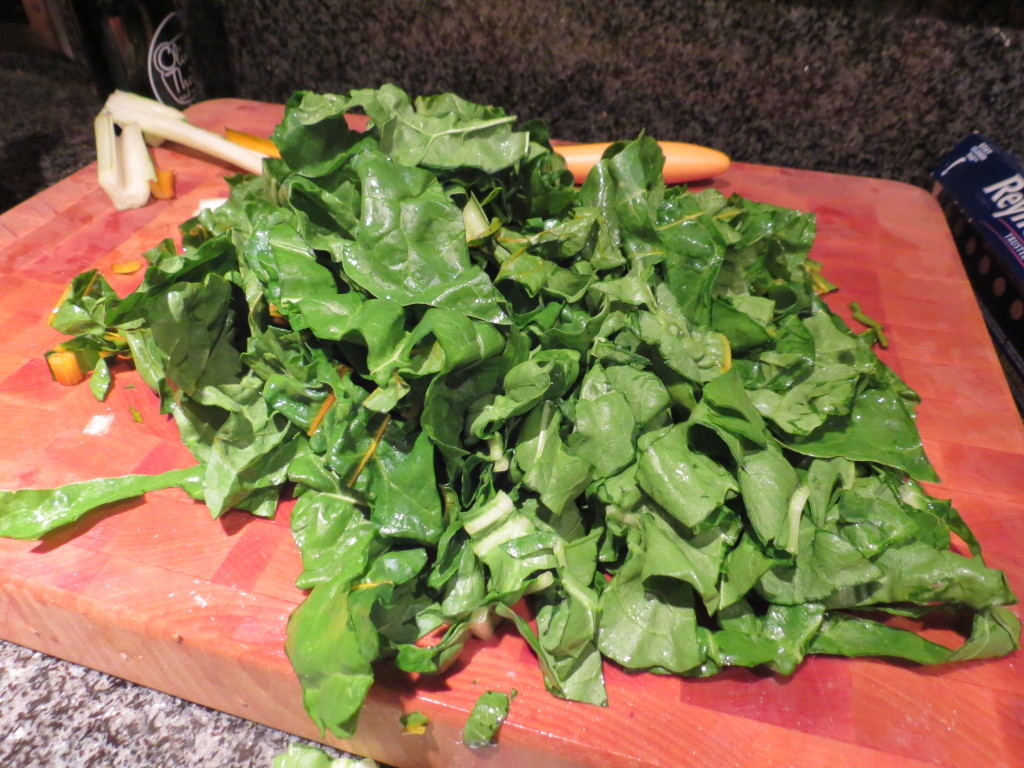 Once the stems and onions have been cooking about 3 more minutes, add the greens, garlic salt and bouquet garni. Let the greens sautee for about a minute and then add water and cover. This will help the greens cook down faster and will help soften them up a bit and chard is a bit thicker than spinach. You can skip this step if you like the texture of raw chard. The chard should only need about 5 minutes or so, but you can taste along the way and cook until you get the texture that makes you (or your picky eaters) happy.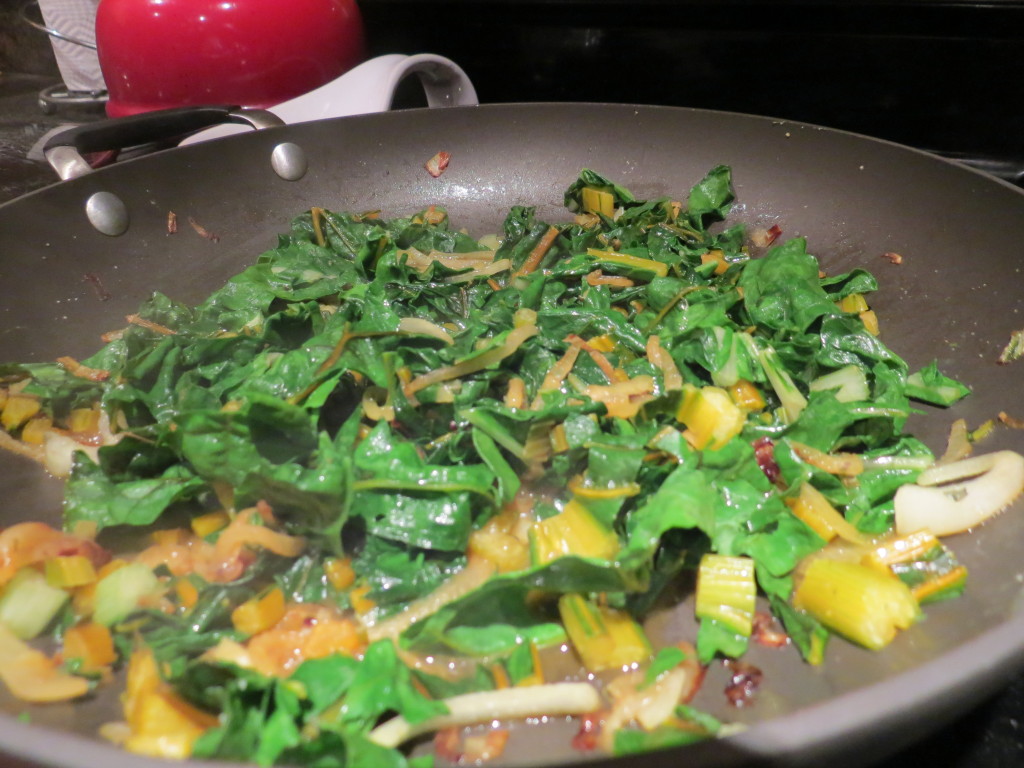 To finish off the dish and add some sweetness and lightness I turned to my birthday present: fancy oil and vinegar. Those oil and vinegar specialty shops are really popping up everywhere and are really fun to visit– maybe you even have some in your house! One of our favorite snacks is fresh bread dipped in thick balsamic vinegar. My latest purchase includes a lemon olive oil and a fig balsamic.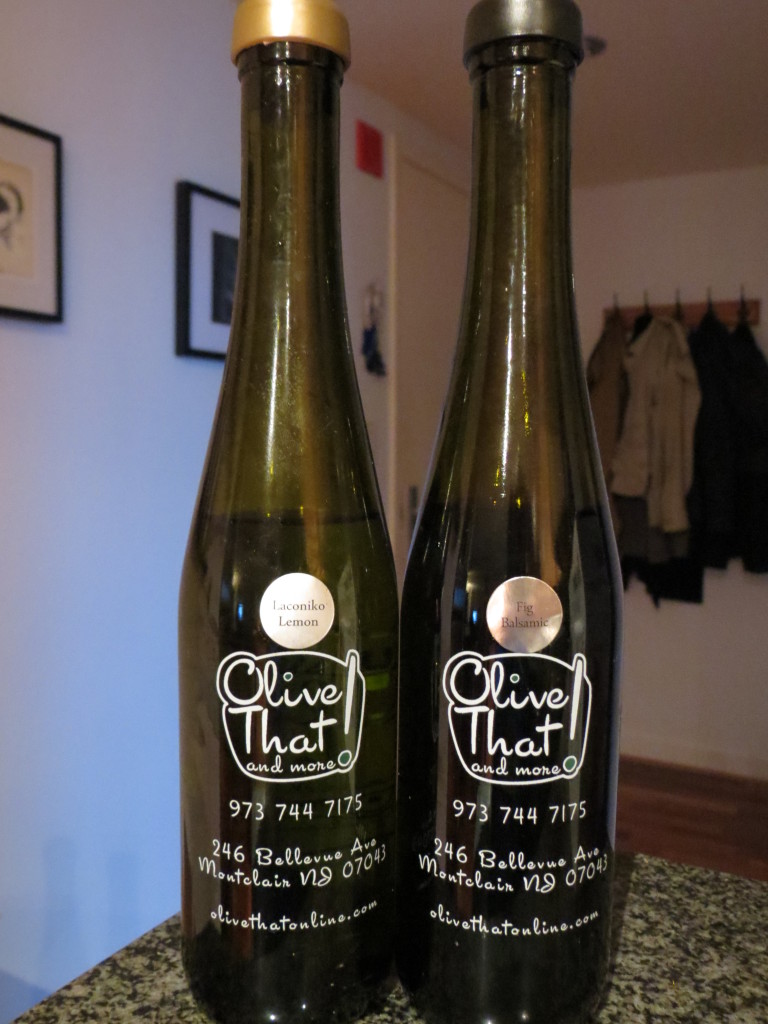 If you don't have these you can easily use regular balsamic with a bit of honey for sweetness and lemon juice or lemon zest to mimic the brightness of the lemon olive oil. But if you have some fancy flavors I'd encourage you to try them out! I added 1 1/2 tsps of balsamic before the last minute of cooking and then the other 1 1/2 tsps of vinegar and lemon oil right before you serve it. Stir quickly to combine and serve immediately.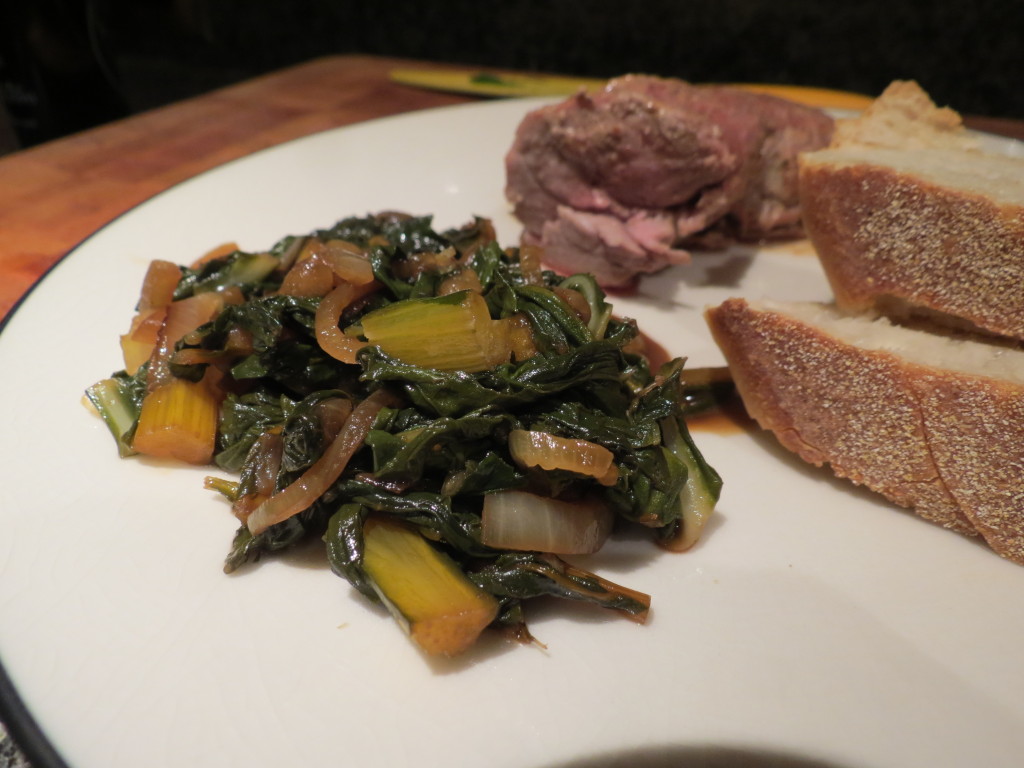 This dish had a great balance of flavor and really complimented the meat and bread. It would be a great side dish for chicken or even red meat. During the winter you could make it more hearty by adding some beans and if you wanted to give it a more asian twist you could add some ginger and soy sauce in place of the oil and vinegar.
Hope you're having a great summer full of fresh produce and experiments in cooking!