Let's talk about cravings. How often has a smell or a memory triggered an intense desire for a certain flavor or dish? For someone as obsessed with food as I am, this happens all the time. And who are we kidding… most cravings aren't for baby carrots or a nice juicy apple (the random times that they are I celebrate). No no, my cravings more often come in the form of warm apple pie or mac and cheese that's rich and creamy, with the melted cheese stretching from the fork and a panko crust that's just a touch burnt on top. Sometimes I am able to create a healthy alternative that gets at the root of the craving (examples here and here). Other times I will give in, eat really healthy during the day, and indulge in the real thing… and more often than not in this scenario I end up disappointed because it's never as good as the version I dreamed up that initially triggered the craving. Isn't that the worst?
Ahh, but then there is that magical one off time when the dish that you dream of exists in real life and it takes 2 days to convince your husband to go on a food adventure with you, and it's just spectacular. This is a story about one of those times.
This weekend's craving: burgers. What I thought I wanted was a really delicious hamburger. In my head it was salty, juicy, topped with good quality sharp cheese, maybe some mushrooms or caramelized onions. And most importantly it should be on a real bun. This was a random craving and I decided to indulge it with no reservations. Guess what? I was disappointed.
That's when I remembered Bareburger. An organic burger place with a few locations throughout NYC. I discovered Bareburger back in 2011 when I was working in the West Village and one of my weekly tasks was finding a place to order lunch from that would please an entire office. I had never been there in person, so this evening's amazing dinner that fully satisfied my burger craving had to be shared with you in the form of a Dine and Dish post.
The atmosphere: Up until tonight I had only ever gotten delivery, so I didn't know what to expect, but the atmosphere was great. My husband and I went to the location on West 46th between 8th and 9th Avenue. The restaurant had a relaxed, friendly, but hip feeling. Wooden high top and low top tables were set simply with brown paper napkins wrapped around a fork and a giant burger knife. Ketchup and Mustard were on the table in what seemed to be old honey bears. Edison bulbs and cutlery laden chandeliers hung over our table. And there were cute definitions of phrases like "bare" and "burger" printed on the wall. There was also a nice wooden bar in the middle where you could sit while you wait or even have the full menu.
The menu and selection is one of the reasons why I love this place. You might be thinking "the name suggests that there are only burgers on the menu." While this is technically true (along with fries and onion rings which you would expect from a burger joint), you will be floored by the amount of options and combinations you can create out of a burger. First of all, there are 14 types of proteins including elk, ostrich, 3 veggie alternatives, and 4 chicken options. Then you can pretty much customize EVERYTHING including veggie toppings, cheese, bacon (yes, there are 4 types of bacon), sauce, and bun. They also have some favorite suggestions in case choice overwhelms you. The pre-imagined burgers are about $10-12 each, but if you customize a burger it could get a little pricey depending on how crazy you want to go.
The food and drink was seriously delicious. I like to think I have a pretty high bar when it comes to food and literally everything we ate tonight was great. To start we got panko crusted butter pickle chips (aka fried pickles). The serving was pretty giant, we could not finish it. The pickles came out so fresh, it was like they teleported from the fryer to our table. The panko crust was crispy and well seasoned, the pickles were not too sweet and not too sour. The dish felt slightly oily, but not so much that you felt gross afterwards. Two dipping sauces accompanied the pickles: spicy thai chili mayo and buttermilk ranch. Both were tasty, but both of us preferred the thai chili. It had a nice kick of spice and felt lighter on your palate than the ranch.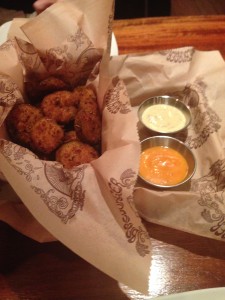 After perusing the menu trying to remember the dish I got 3 years ago that made me fall in love with Bareburger, I remembered that it was the cobb salad topped with a quinoa veggie burger. I made a few alterations and the salad ended up having: Romaine hearts, avocado, hard boiled egg, turkey bacon, goat cheese and grape tomatoes tossed in a buttermilk ranch dressing (original called for blue cheese and raw onions). I opted for the small size and it was the perfect amount of food when topped with the veggie burger. I remember being first drawn to the cobb salad because it was designed with turkey bacon which always makes me happy. In the end it was as delicious as I remembered it:  Hearty and satisfying, crunchy from the romaine, smoky from the turkey bacon, creamy from the avocado and goat cheese. The veggie burger was a great topper because there are golden raisins in it which added a nice bite of sweetness to counterbalance all the savory flavors. I think next time I would get it with a lighter dressing though… maybe a balsamic or a lemon dressing to further balance the richness.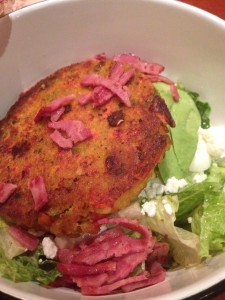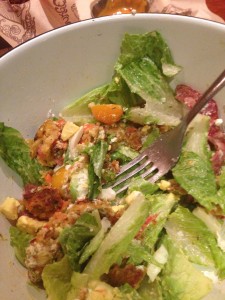 Geoff got the Roadhouse burger: bison burger on brioche bun with pepperjack, country bacon, avocado, sweet apple grilled onions, red piquante pepper, and smoked paprika mayo. His official comment is "it was very good" but his reaction about 30 seconds after he got the burger and was already done with half of it was "oh my god, wow." I had a few bites even though I tend to not like bacon. The bison was incredibly well seasoned and the flavor combinations were spot on.
The service was great as well. We arrived a little after 7 and were seated after 5 minutes (after being told it could be 15-20). Our server was Taylor and she was very sweet. She introduced Geoff to the concept of the restaurant and how to read the menu and checked in on us just enough throughout the meal that we felt fully taken care of but not overly watched. The orders are done through ipod touches and they had no problem with my requests to customize my salad. In fact, she even agreed with my customization which is always nice because asking for changes on a menu can make you feel like a burden.  The food came out exactly as we had ordered it and we only waited about 5 minutes or so for it to arrive at the table. At no point did we have to ask for anything or did we feel rushed… what more could you ask for?
If this post hasn't made you search for the nearest Bareburger location… well, I don't know what's wrong with you. But if nothing else, the next time you crave a burger or are tasked with the chore of finding a place that can satisfy even the pickiest group of friends… go to Bareburger!