As it gets colder outside, there's nothing better than curling up on the couch with a warm drink. Hot chocolate… hot apple cider… or my favorite– hot tea. In the morning, during the work day, or for a treat after dinner, a giant mug of hot tea is just perfect. And of course, for the times you need a bit more of a treat, all you need to do is pair the tea with some biscotti. Biscotti goes really well with tea, especially if you are a dipper like me. Because it's baked twice, biscotti is a dryer cookie so it can hold up to the tea without disintegrating too much.

This biscotti is fully loaded with treats that add great texture and flavor: candied ginger, walnuts, dried cherries, and chocolate chips. The chocolate chips are a great addition because the heat of the tea melts them a bit and melted chocolate is just heavenly. You can of course, customize your biscotti according to your taste preferences (or what's in your pantry).
So here we go. For the base you will need:
1 cup all purpose flour
1/3 cup unsweetened cocoa powder
1 1/2 tsp baking powder
1/4 tsp salt
1 egg
1 egg yolk
1/2 cup sugar
1 tsp vanilla extract
1/4 cup canola oil
First, combine flour, cocoa powder, baking powder, and salt. Usually it's recommended to sift the dry ingredients together, but I don't have a big enough sifter, so I just whisk it to make sure everything combines well.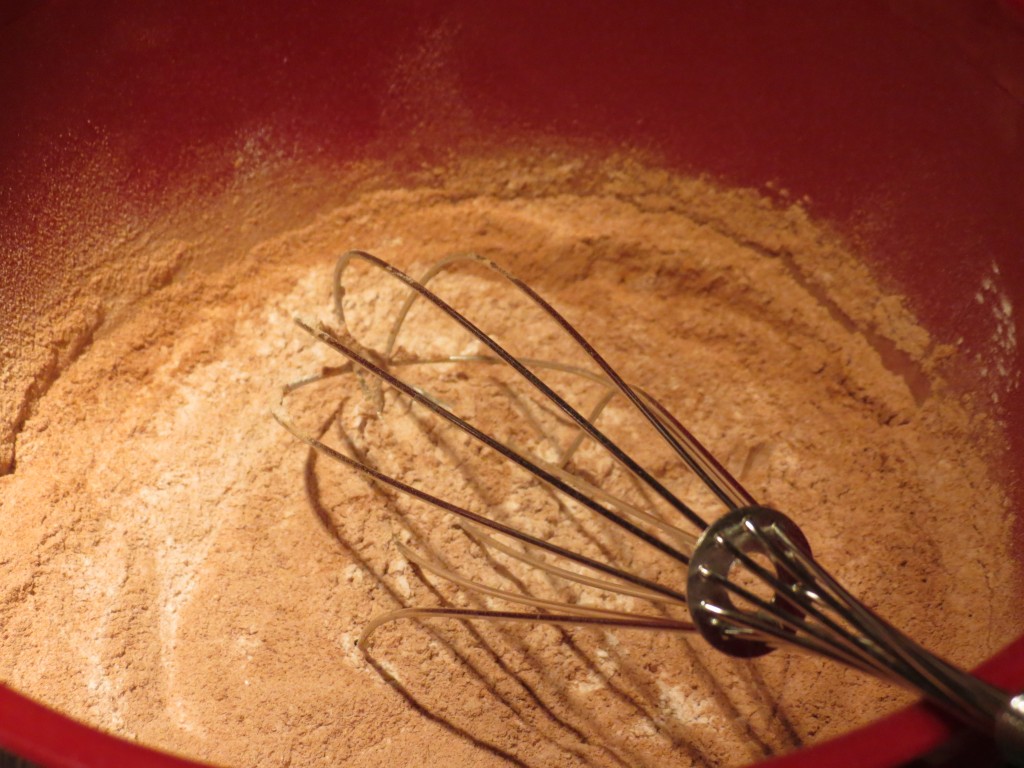 In the bowl of an electric mixer, beat egg, yolk, and sugar until light and fluffy. Add vanilla and oil and mix well.
Slowly add dry ingredients to wet and mix until combined. The batter will be very thick.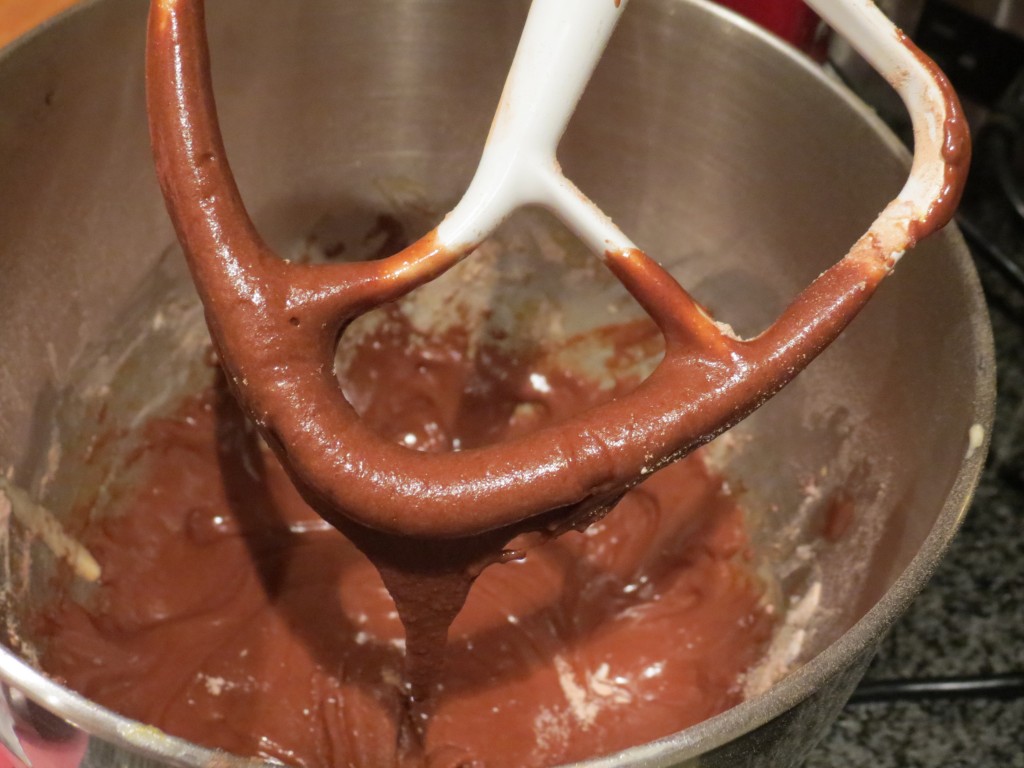 Next you want to prepare the… fillings? I dont really know what to call them, but the ingredients that will take your biscotti to the next level. I used:
1/2 cup walnuts
1/4 cup candied ginger
1/4 cup semi-sweet chocolate chips
1/4 cup dried cherries
Because these flavors are do distinct I wanted to make sure that you got a bit of everything in each biscotti so I chopped everything together really finely and added it into the chocolate dough.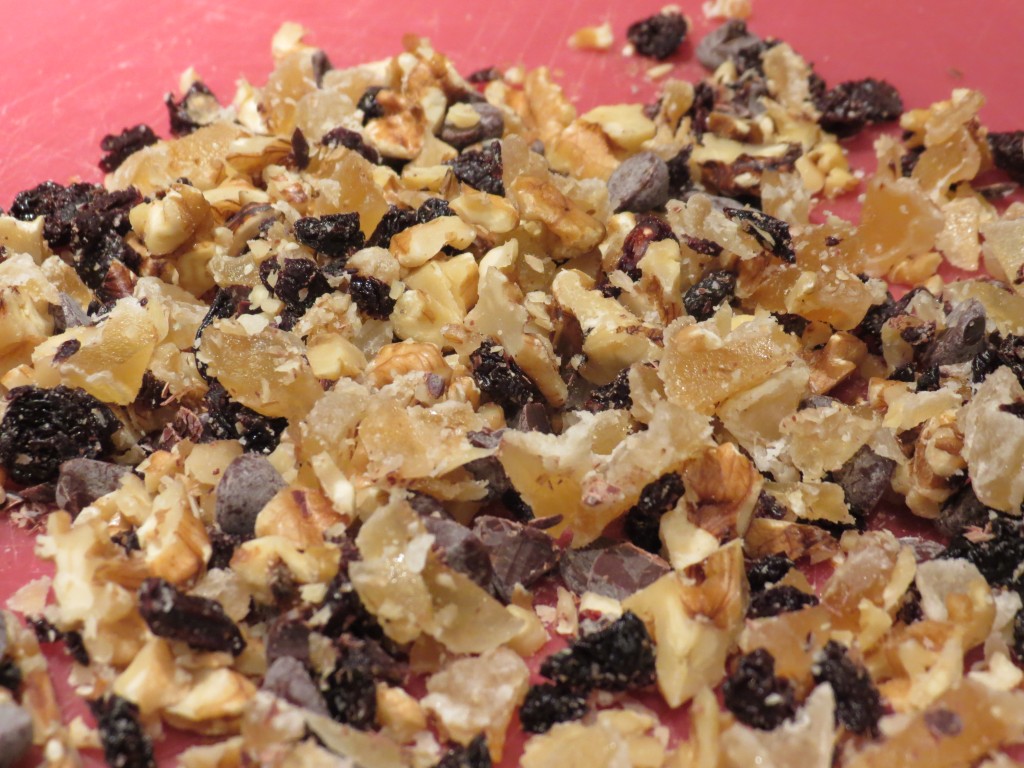 Using a heavy duty rubber spatula, fold the fillings into the dough. I say heavy duty because anything less would likely result in the rubber part getting lost in your dough.
Divide the dough in two and using damp hands, shape into 2 logs on your baking sheet lined with a silpat.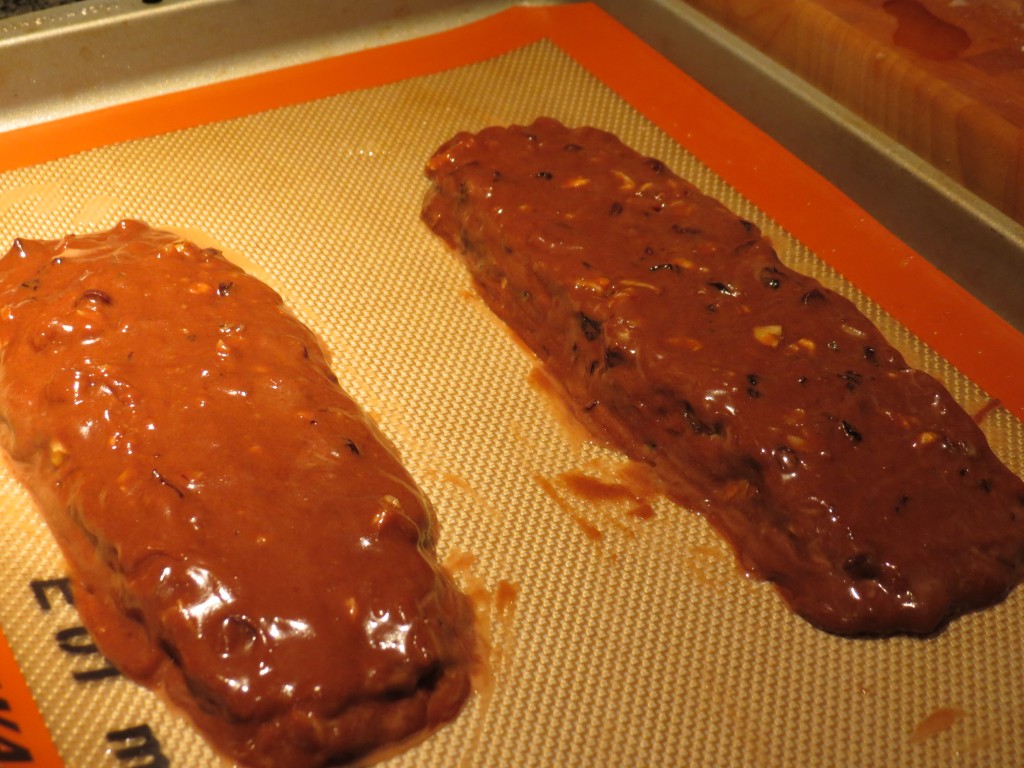 You can also use parchment paper or cooking spray to make sure nothing sticks. There is a lot of leavening in this dough, so make sure your logs are as even as possible. Mine, as you will see, were not. It seems it's better to make them long and thin and not too tall. Bake at 350 until the tops are set, about 22 minutes.
As you probably know, biscotti get their name because they are cooked twice. Once in the log form, and once in the individual cookie form. Once the tops are set, remove from oven and let cool for 10 minutes while you re-set your oven to 325. Using a serrated knife, diagonally slice your biscotti to the size you prefer. Mine were about 1/2 – 3/4 of an inch thick. This will leave you with some weird ends of the log, which you should feel free to eat and proceed to get really excited about what you've created.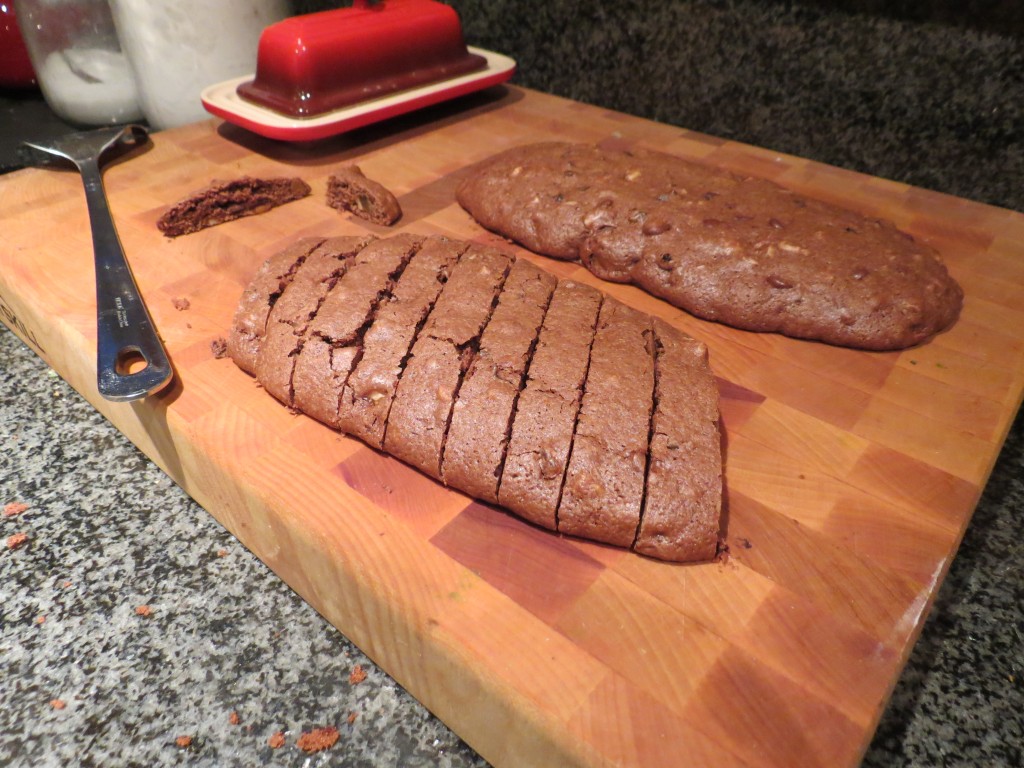 Arrange the biscotti back on your baking sheet on their sides and bake up to 10 more minutes on each side.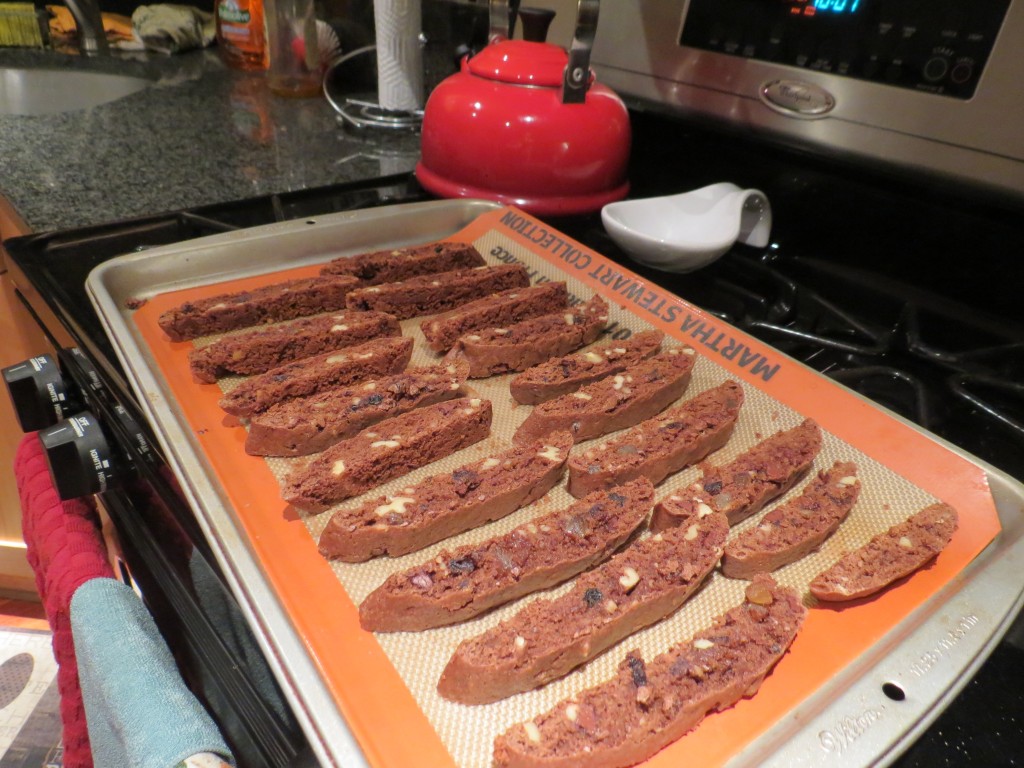 I always prefer a softer cookie, so I only cooked mine for 5 minutes on one side and 10 on the other. This recipe made about 20 biscotti  ( plus the bonus log ends) but if you succeed in making your logs longer and thinner, you will get more.  It's been a week and I am still enjoying these with my tea. I love the spice of the candied ginger, the sweetness from the dry cherries, the crunch of the walnuts and the melted goodness of the chocolate chips. Go ahead! Make them and curl up with a mug of tea tonight!