You probably wouldn't know it from my previous post about peanut butter and Nutella cookies, but in general I consider myself a pretty health-conscious cook. I love creating dishes that are tasty first and healthy second. It served me well senior year of college when I lived with 3 boys who had no interest in "diet food." No matter how healthy something may be, the fact is if its not delicious you're not going to want to eat it. I'm excited to share this recipe tonight because not only is it tasty and healthy,  but it's super fast and simple!
Turkey burgers are one of those foods that I really love because they're a healthy swap, perfect for satisfying a burger craving. The problem with turkey burgers is that it's really easy to mess them up. Because turkey is such a lean meat, turkey burgers can go from delicious to dry and tasteless very easily. The trick to a good turkey burger is keeping moisture inside. I've learned a lot of tricks over the years. My mom's trick is to put mushrooms into the burger because as it cooks, the moisture from the mushrooms is released so your burger doesn't dry out. My trick: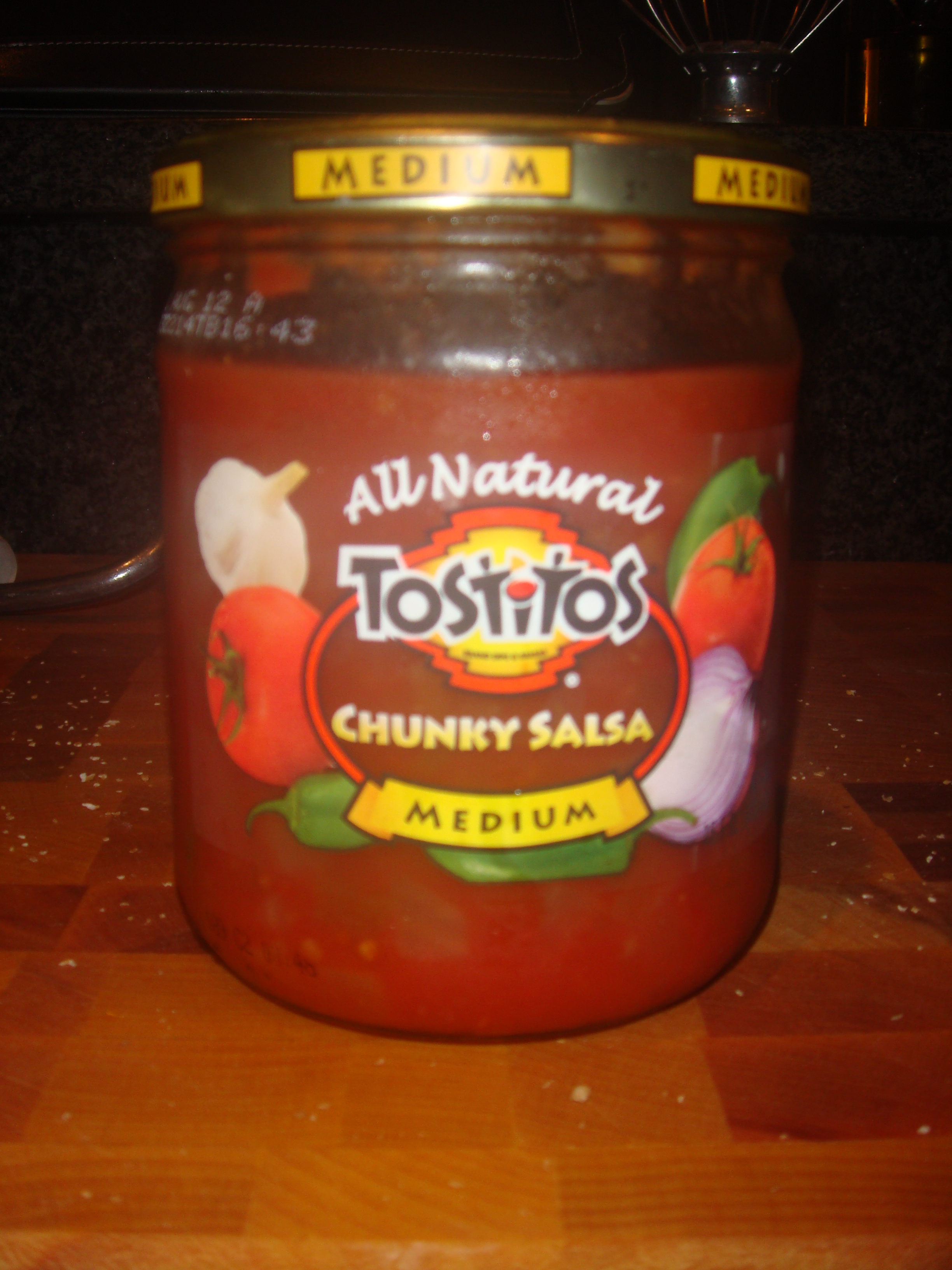 Yep, that's right… salsa! Salsa is really my favorite condiment. It's so simple, but so flavorful and versatile. Remember I said this recipe is simple and fast? Get ready…
In addition to the 1/2 cup salsa and the 1 lb of ground turkey breast you'll need:
1/2 small onion finely diced
1 tsp garlic salt
1 tsp cumin
2 TB fresh cilantro (chopped finely– optional)
I want to talk a little bit about these ingredients. I put onions in all my burgers and meatballs for a couple of reasons. First of all, it helps bulk up a dish for very few calories. Also, as I just learned recently, a half cup of onion is a source of potassium, calcium, magnesium, phosphorus and dietary fiber. The trick with putting onions into burgers or meatballs is to make sure the pieces are small enough to cook within the meat.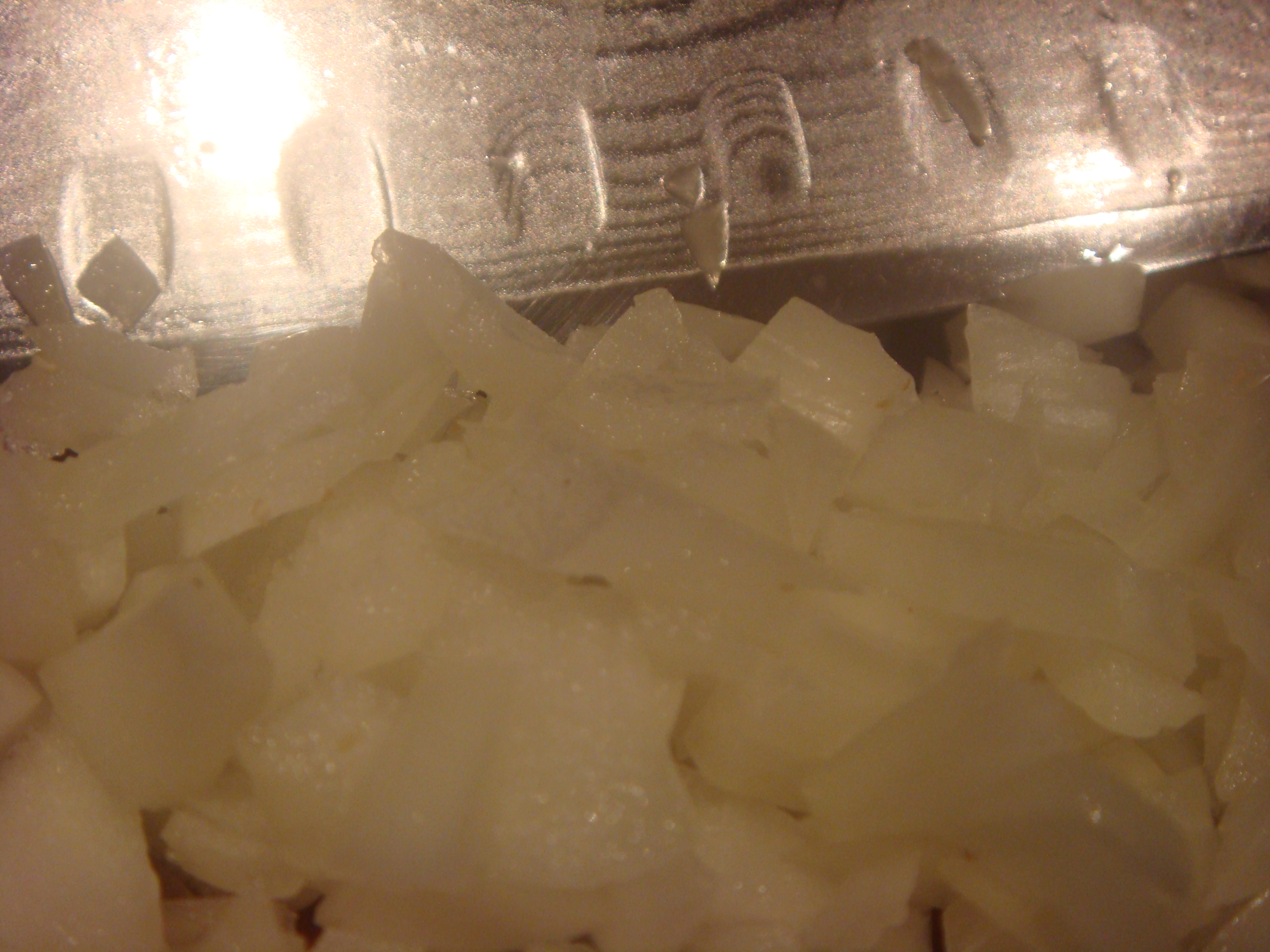 The cilantro is a new ingredient that I haven't put into these burgers before, but I had some leftover from last week's
fajita night
, so I decided to put it in as a test. I think it worked out nicely because it added a freshness without being overwhelming the way cilantro can be. But again, its very optional and this burger will be delicious without the cilantro as well.
Now that we've gotten that out of the way… This recipe is as easy as combine all ingredients in a bowl.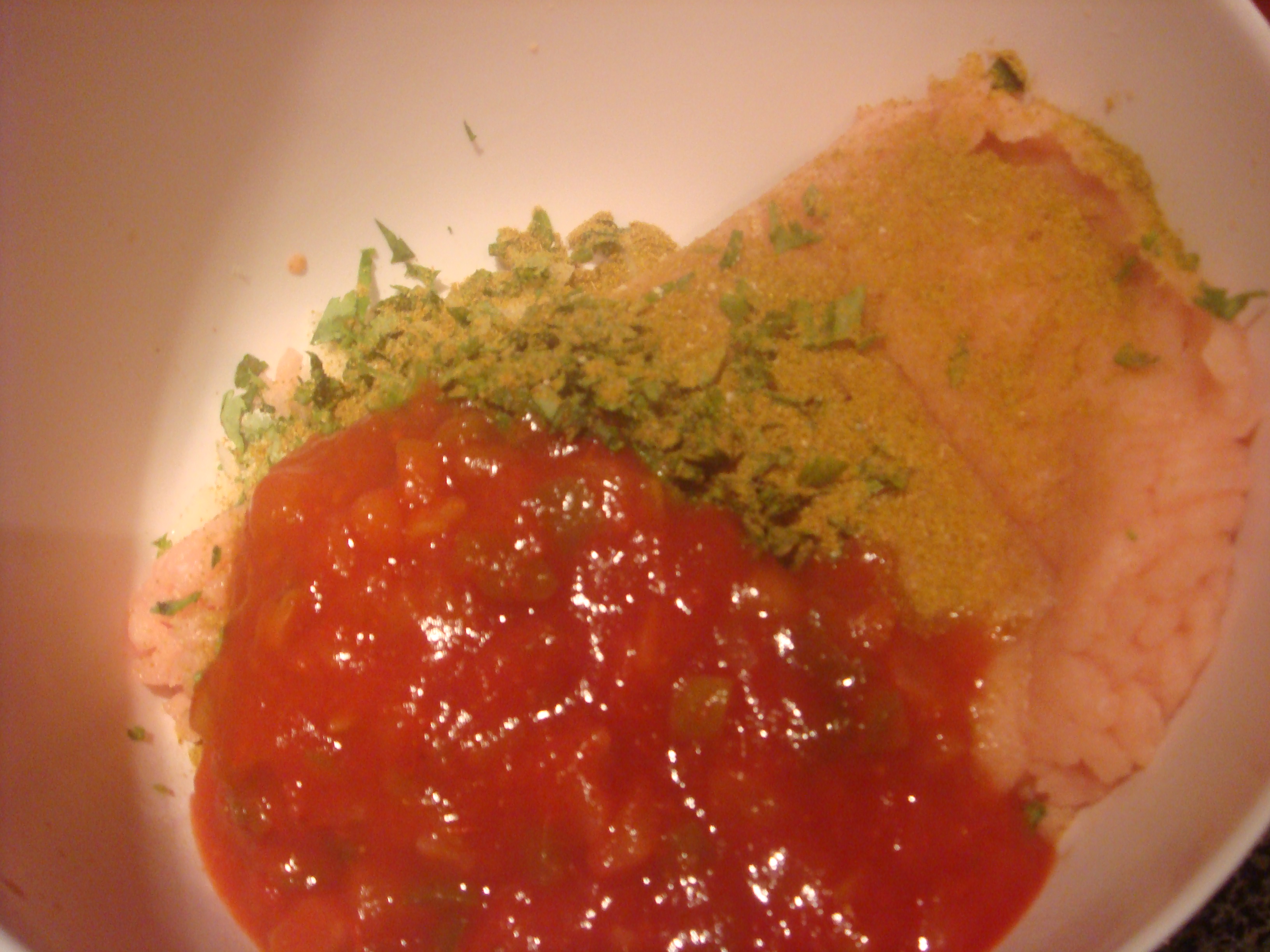 Divide and shape into patties. With 1 lb of ground turkey, you can make 4 perfect size burgers that fit very nicely on buns.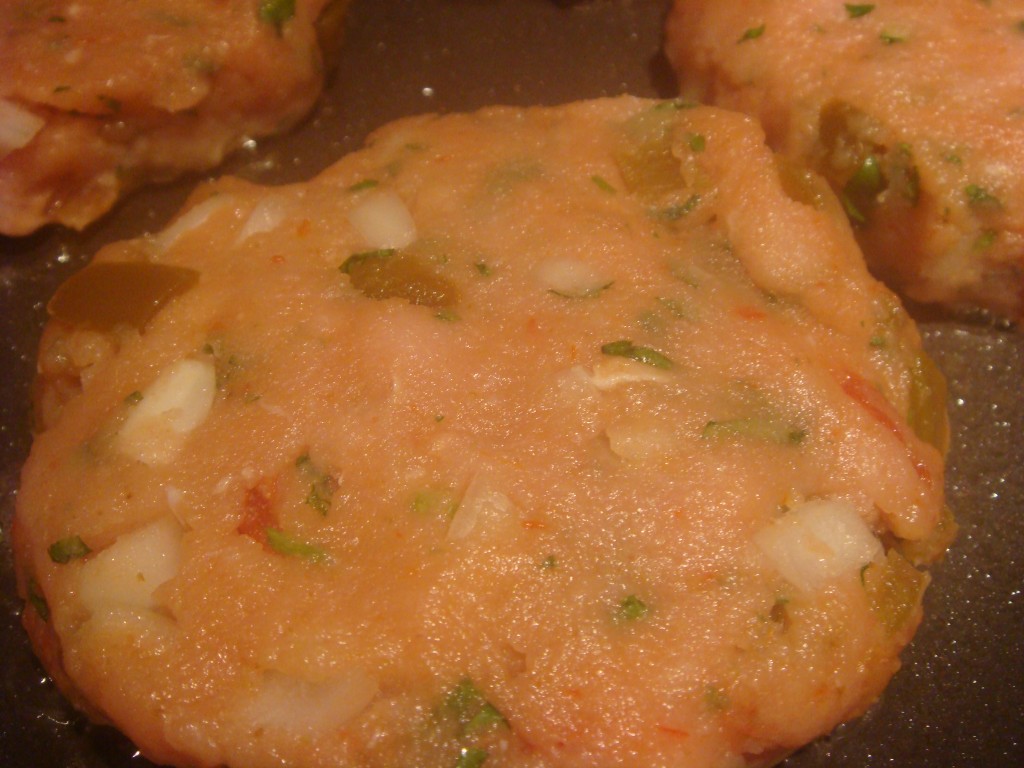 Cook, covered, over medium high heat for 4 minutes. Flip and cook, covered, for another 4 minutes.
(If you want to add cheese, do so at the 2 minutes to go point).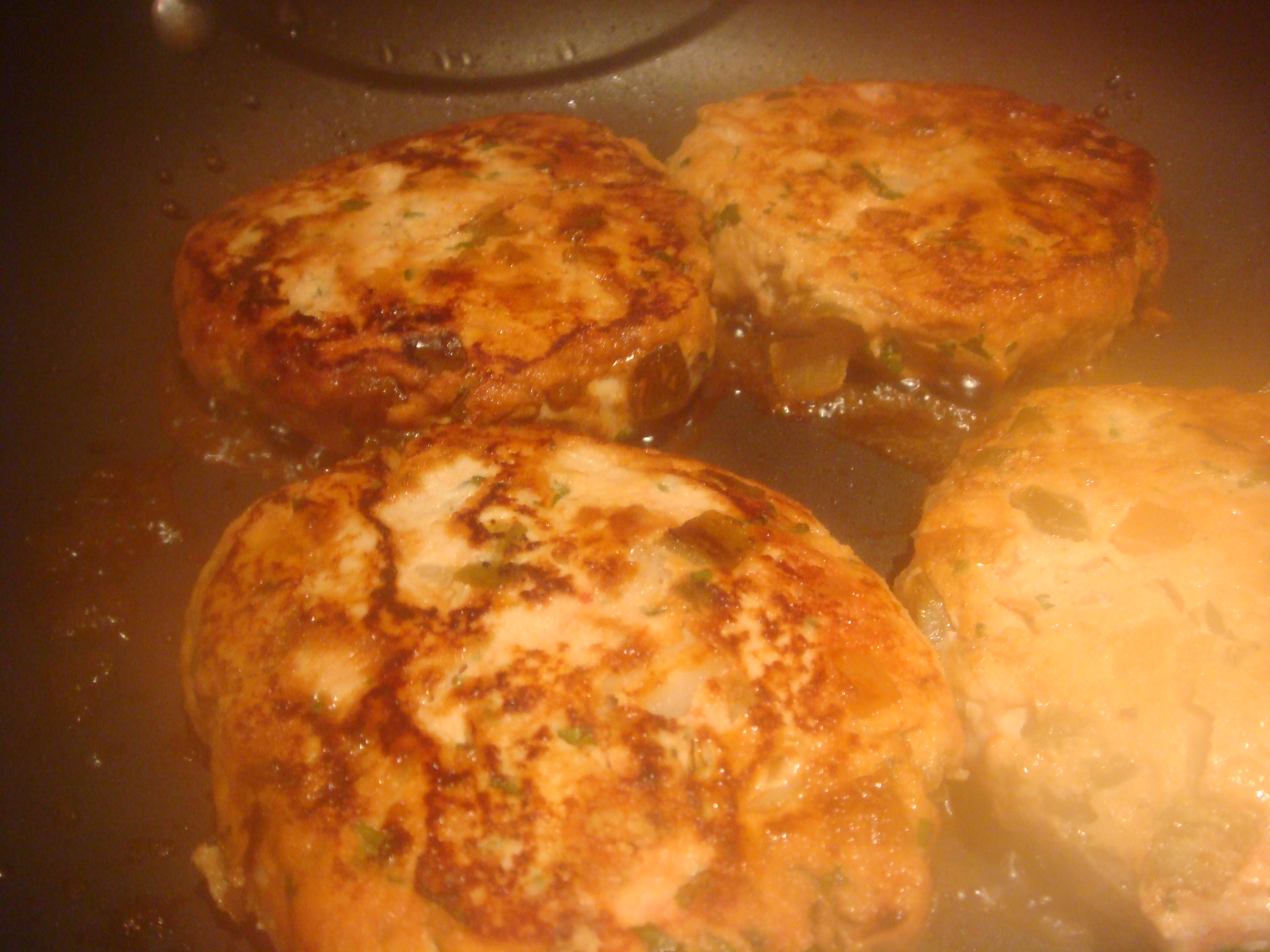 Covering your turkey is another really important step on this quest to keep moisture in the turkey burger. It really makes a world of difference, and hopefully by now you've seen that covering doesn't affect the beautiful golden-brown color you can get on the burger.
I served the turkey burgers with muenster cheese on multi-grain sandwich rolls (toasted) with a simple side salad of mixed greens, broccoli slaw, cucumbers, bell peppers, and tomatoes with a lime vinaigrette. It was a delicious, healthy meal that took about 15 minutes start to finish. Next time you're in a time crunch, you should definitely make this!