Recently, my husband and I went on a trip down south and spent time in Nashville, Chattanooga, and Atlanta. On this vacation we did what we do best- walk around new cities and eat amazing food. Our first breakfast was at a famous place in Nashville called the Pancake Pantry. Yelp told us to get the sweet potato pancakes, which we did. They were fantastic- light and fluffy with complex flavor that was enhanced and complimented by maple syrup as well as the cinnamon cream it was served with. This weekend we found ourselves at home with beautiful weather and no plans so I decided to create my own tribute to the Pancake Pantry… wonderfully complex and surprisingly delicious zucchini blueberry pancakes.
I've never made pancakes before. They are the one breakfast food that have always been a bit too intimidating for me. So why venture to make crazy pancakes for my first attempt you might ask… well, what can I say? I'm a risk taker. Especially when it comes to cooking. I like playing with new ingredients and experimenting with flavor combinations… what's the worst that can happen?
After looking in the fridge and on pinterest, I found a recipe for zucchini pancakes on the smitten kitchen blog as well as a recipe for lemon, zucchini, blueberry bread. I decided to combine them to create this new pancake.
Here's what you'll need:
2 cups shredded zucchini (about 12 oz or 1/2 of an extra large zucchini)
2 Tbsp fat free greek yogurt + 2 Tbsp skim milk, mixed together until smooth (or 1/4 cup buttermilk)
2 eggs
3 Tbsp olive oil 
2 Tbsp sugar
1/2 tsp vanilla extract
1/2 cup whole wheat flour
1/2 cup all purpose flour
1 tsp baking soda
1 Tbsp cinnamon
1/2 tsp freshly grated nutmeg
1 cup blueberries
butter (or coconut oil) for greasing the skillet
You can shred the zucchini in a food processor if you  have one easily accessible. Mine sits pretty far back in a hard to reach cabinet, so I did this by hand.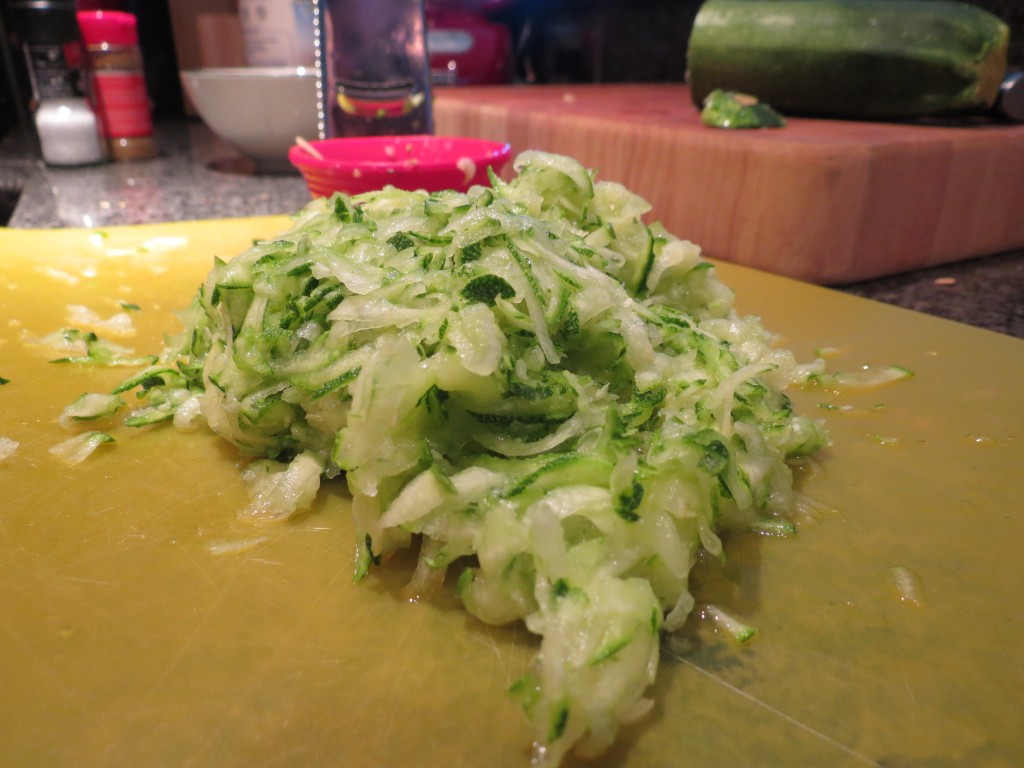 Next, mix yogurt and milk together until smooth. If you have buttermilk on hand, skip this step. Mine is frozen in 1 cup servings, so I used the yogurt/milk combo (are we sensing a theme?) Don't be afraid to get creative with what you have on hand! There is usually a substitution available if you have your heart set on something and don't have the exact perfect ingredients or tools!
Combine yogurt/milk with eggs, oil, sugar and vanilla and mix until smooth. Mixture will be pretty thick.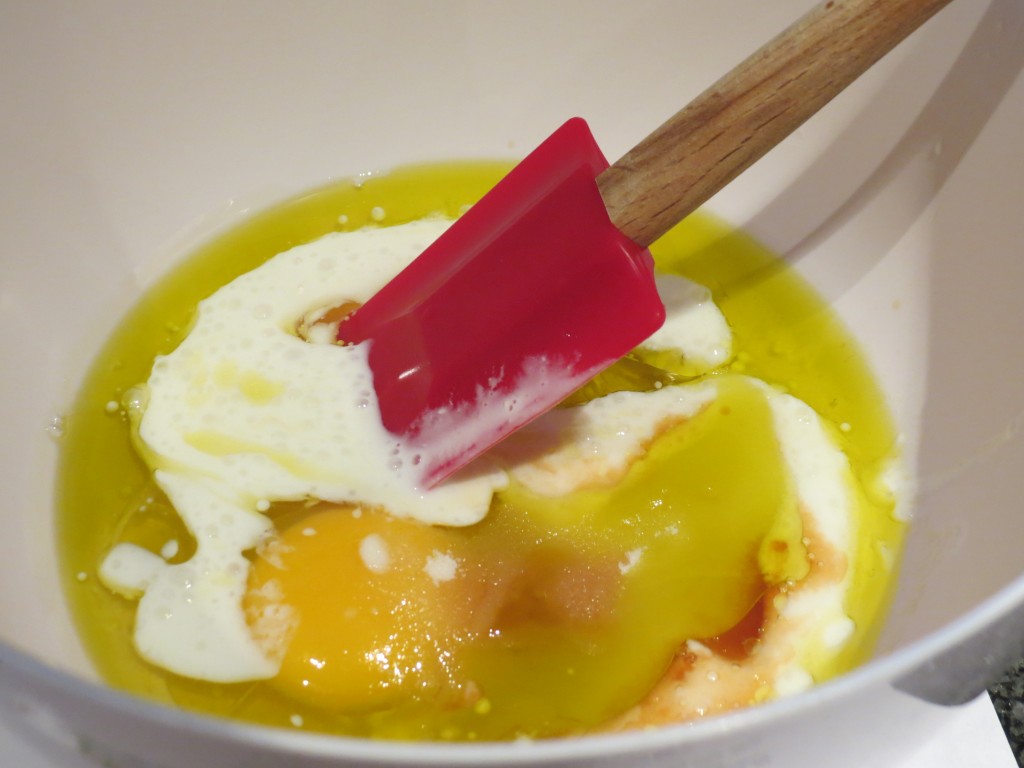 Add in shredded zucchini and mix to combine.
In a smaller bowl, sift together flours, baking soda, cinnamon, and nutmeg.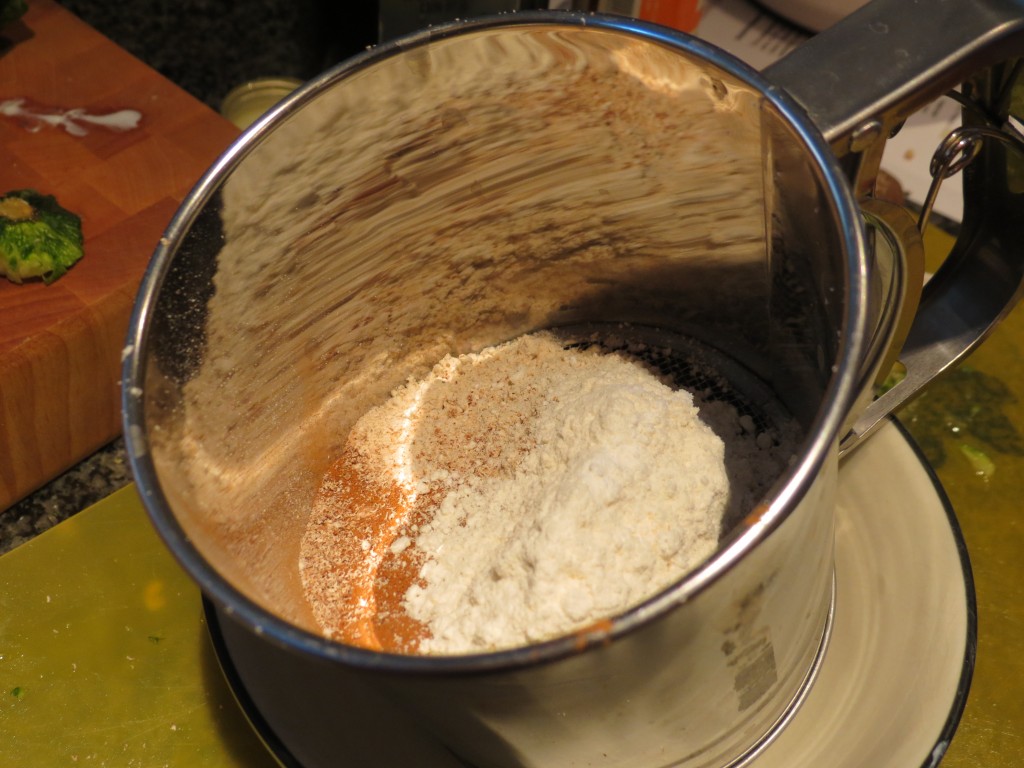 Mix into wet ingredients until just combined.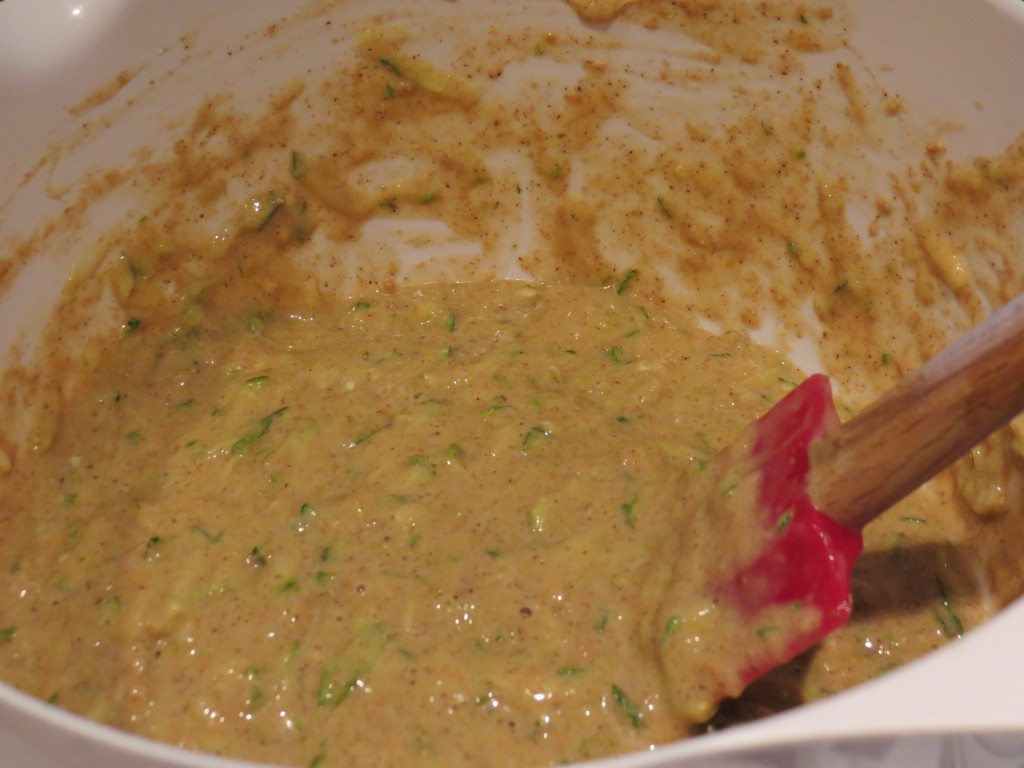 Don't worry if it feels like there's not enough flour, you're making pancakes, not bread, cake or muffins!
The most daunting thing about pancakes is the flip, so if this if your first time, pick the largest skillet you have and start with only a few pancakes at a time until you feel more confident! I used a non-stick skillet, but you can use cast iron or a griddle, as you prefer. I also switched between coconut oil and butter to grease the skillet. I liked the coconut oil because it added a hint of coconut flavor to the pancakes.
Pre-heat the skillet over medium heat for about 3 minutes before adding 1 tsp butter or oil to the pan. Spread the butter/oil around to coat the pan and then using a 1/4 cup measure, drop pancakes in. The 1/4 cup helped keep the pancakes uniform size and not too big. Drop blueberries on top of the cooking pancakes… adding as many or as few as you prefer. Get creative! Make faces!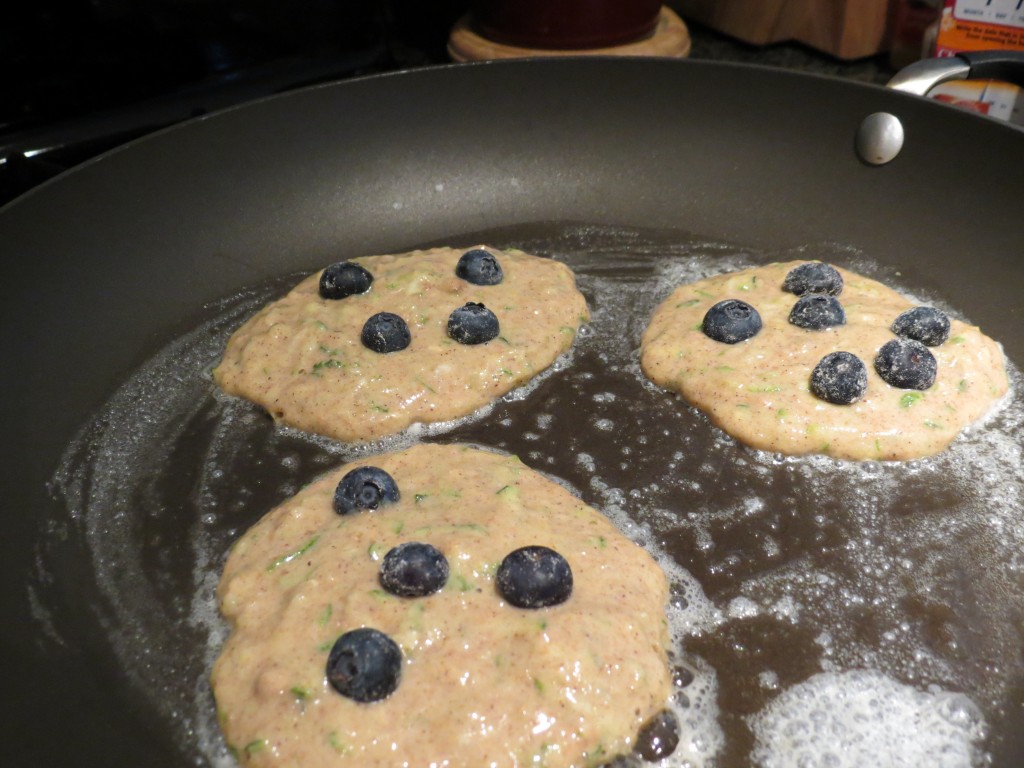 After about 3 minutes, the edges will be a little crisp and you will see a few bubbles coming through the raw side of the pancake. Now it's time for the flip. What I learned was you only need to get your spatula about half way under the pancake and momentum and gravity will help. Now, I'm not saying that these all flipped beautifully… but the other thing I learned was that that's ok!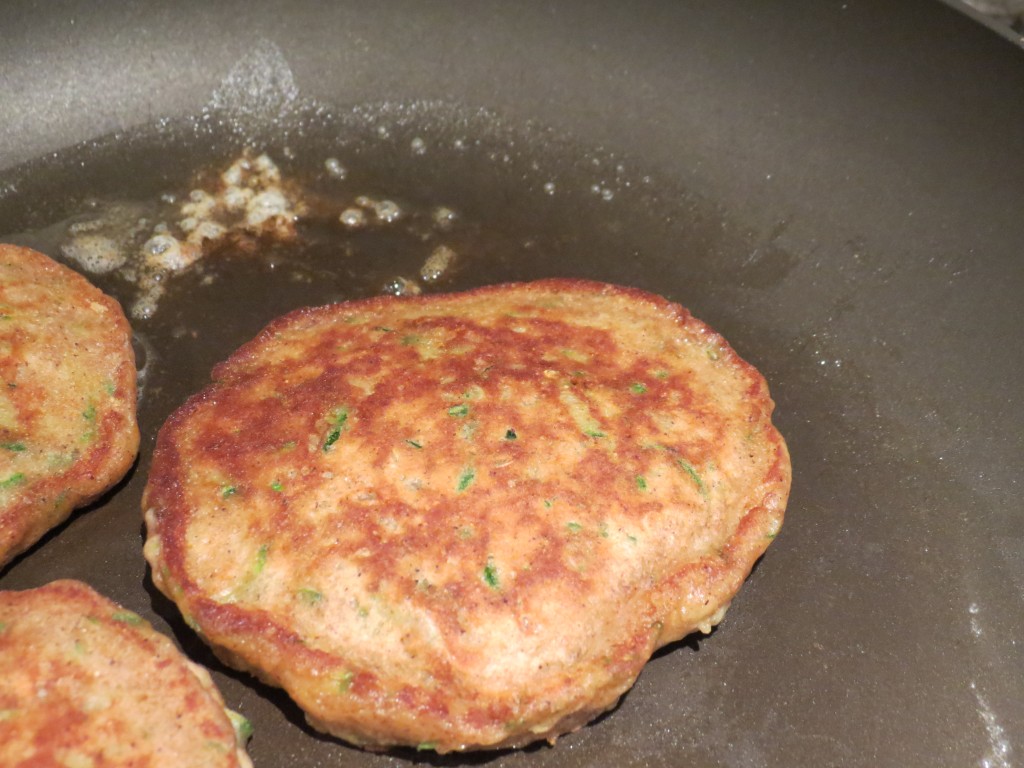 As with cookies, I err on the side of having the pancakes be slightly underdone, so I only cooked them on the other side for about 1 1/2 minutes. Transfer to an oven safe plate and keep warm in a 200*F oven while you repeat with the rest of the batter. The heat and the oven will also help carryover cook any underdone batter. Once you've run out of batter serve with your favorite pancake toppings! Ours were butter and some Cedarvale maple syrup as you might remember from this post.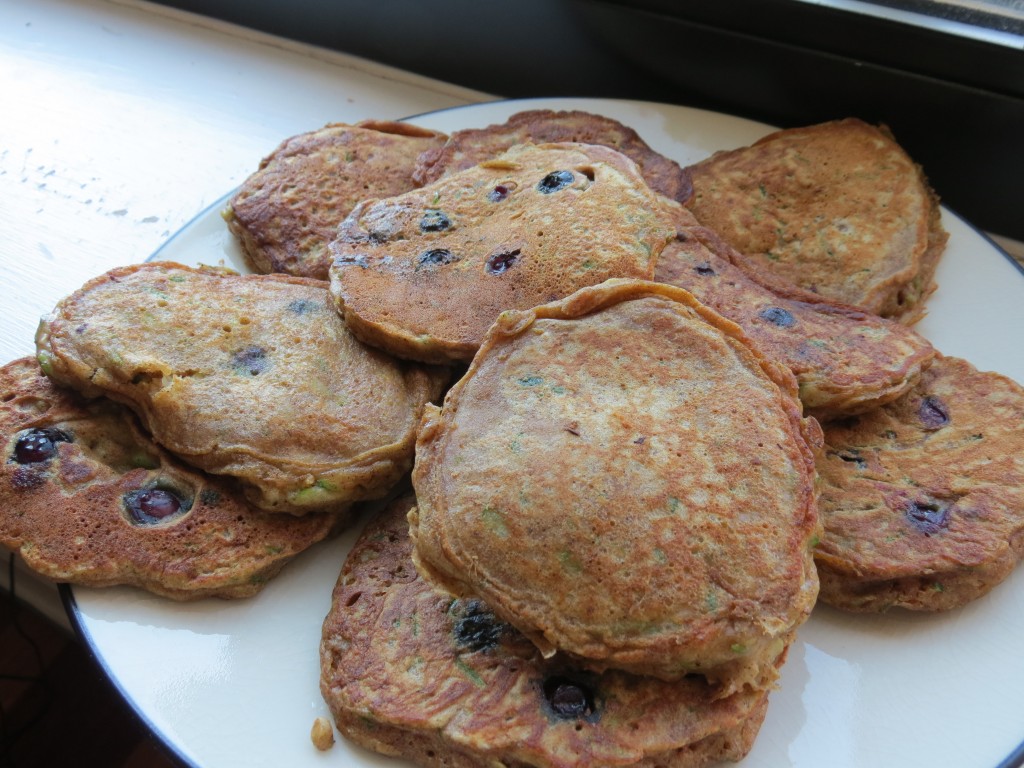 This recipe made 12 pancakes. We each ate 4. We probably could have each eaten 3 with some fruit and been a little healthier. My husband was VERY skeptical because "there are green things in my pancake." But as I was snapping the last few photos, he took his first bites to the tune of "wow" "oh" and "mmm." In my never ending MichDish quest to get him to eat more vegetables those are the best words you can hope for. These pancakes were really delicious and felt very special with hardly any more effort than a normal pancake. Get a little crazy with your pancakes this weekend!