For the past few New Years Eves, we have been attending a fancy pot luck dinner with a few close friends. This tradition has also been accompanied by me trying out new recipes that challenge some of my cooking fears– see Rosemary Focaccia (fear: yeast) of 2012 and Roasted Eggplant with Buttermilk Sauce and Pomegranate Seeds (fear: eggplant) of 2013. For 2014, one of the dishes I decided to make was gougères (fear: choux dough). Choux dough is a classic French pastry technique that uses steam from a high moisture dough as a leavening agent. Gougères are a savory use of this dough usually with a Swiss type of cheese incorporated into the dough.
I found the recipe I ended up using on the Smitten Kitchen blog and just made some minor tweaks. The recipe made about 38 gougères and between 6 people we finished them all! That should tell you how amazing they are. They are also pretty simple if you follow the instructions. Here's what you'll need:
1 cup heavy cream (you could also use whole milk, or probably even 2%) 
4 Tbsp unsalted butter
1/4 tsp salt (or salted butter minus the salt)
dash cayenne pepper
1 cup all purpose flour
3 large eggs
1/2 tsp paprika
1/2 cup grated Romano cheese (or Parmesan)
1 1/2 cup grated Gruyere cheese (or whatever cheese you like)
First, add cream, butter, salt, and cayenne pepper to a sauce pan and bring to a boil.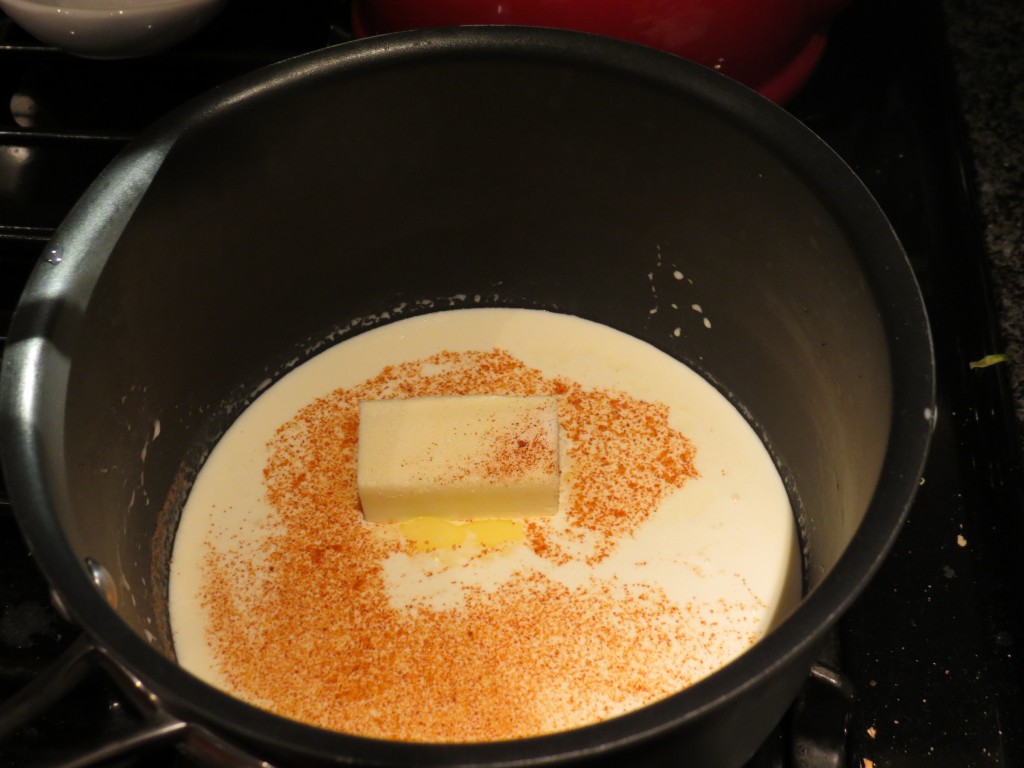 Turn off the heat, add the flour all at once, and mix with a wooden spoon until the mixture comes together and all the flour is incorporated.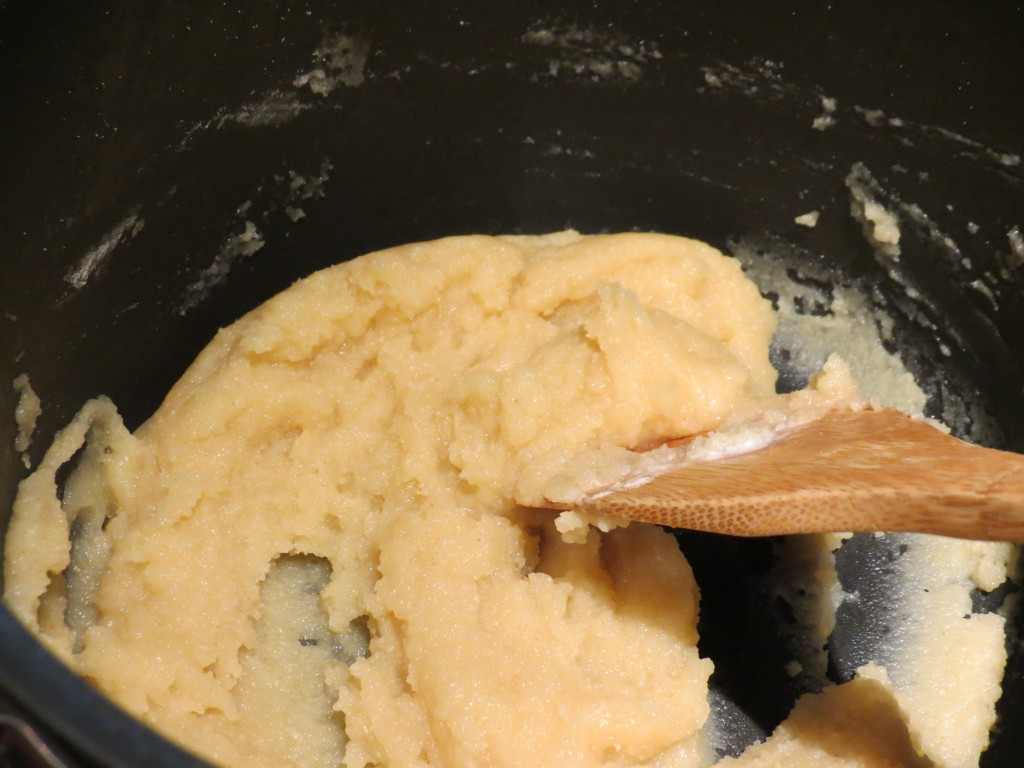 Turn the heat back on to medium and cook the mixture for about 1-2 minutes, stirring every 15 seconds or so, until the mixture dries out a bit. Transfer to a bowl of a food processor, let it cool for 5 minutes, and then process for about 10 seconds.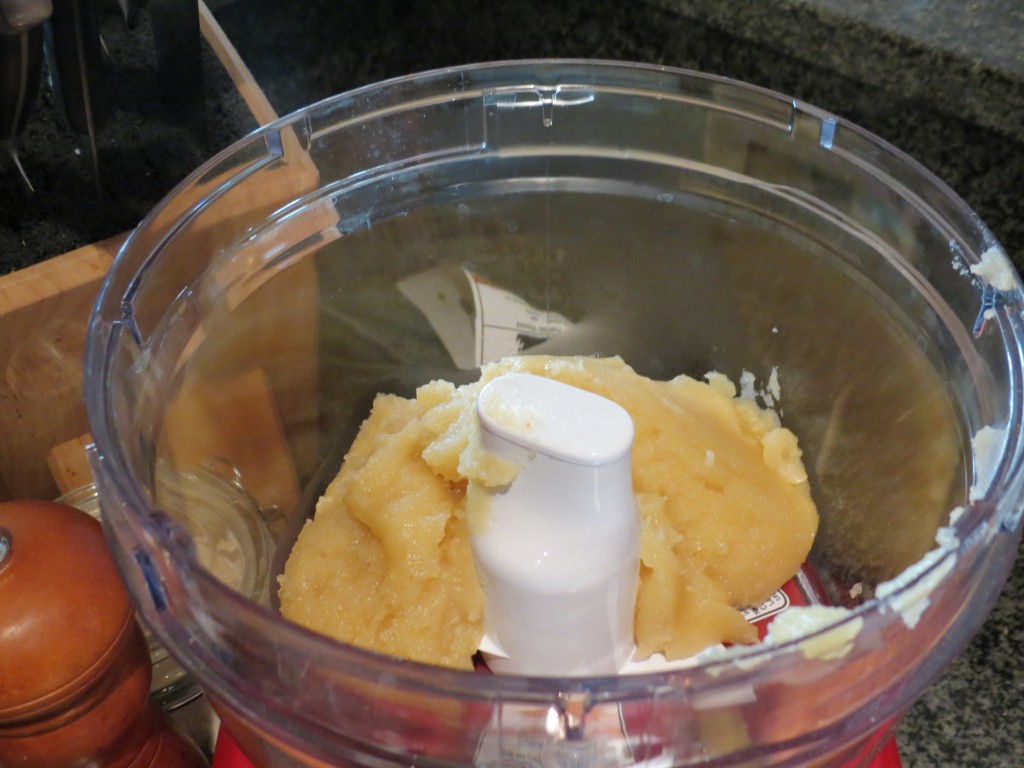 Add the eggs and paprika to the processor bowl and process until well mixed. This took me about 30 seconds with a break to scrape down the bowl in between. Transfer choux dough to a mixing bowl and let cool for 10 minutes.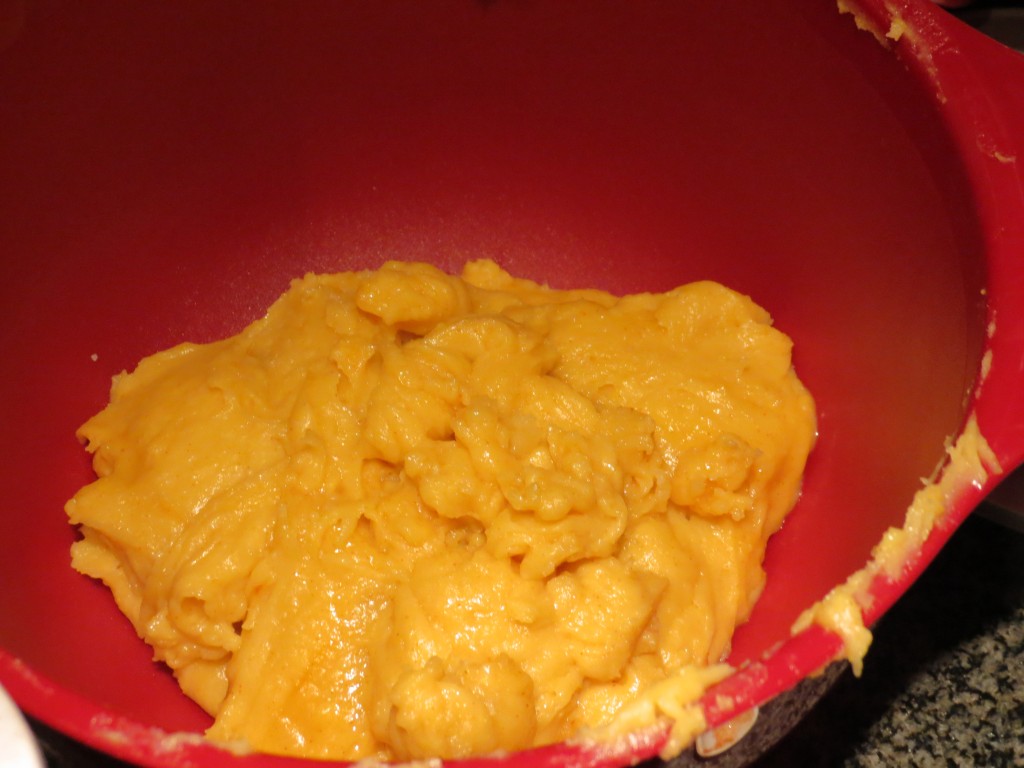 In the mean time, grate your cheese using a box grater on the standard size so that your shreds are small enough to incorporate into the dough, but large enough that you can taste and see the cheese when you take a bite. You'll be adding 2 cups of cheese total, so if you don't have enough Gruyere, add a little more Romano.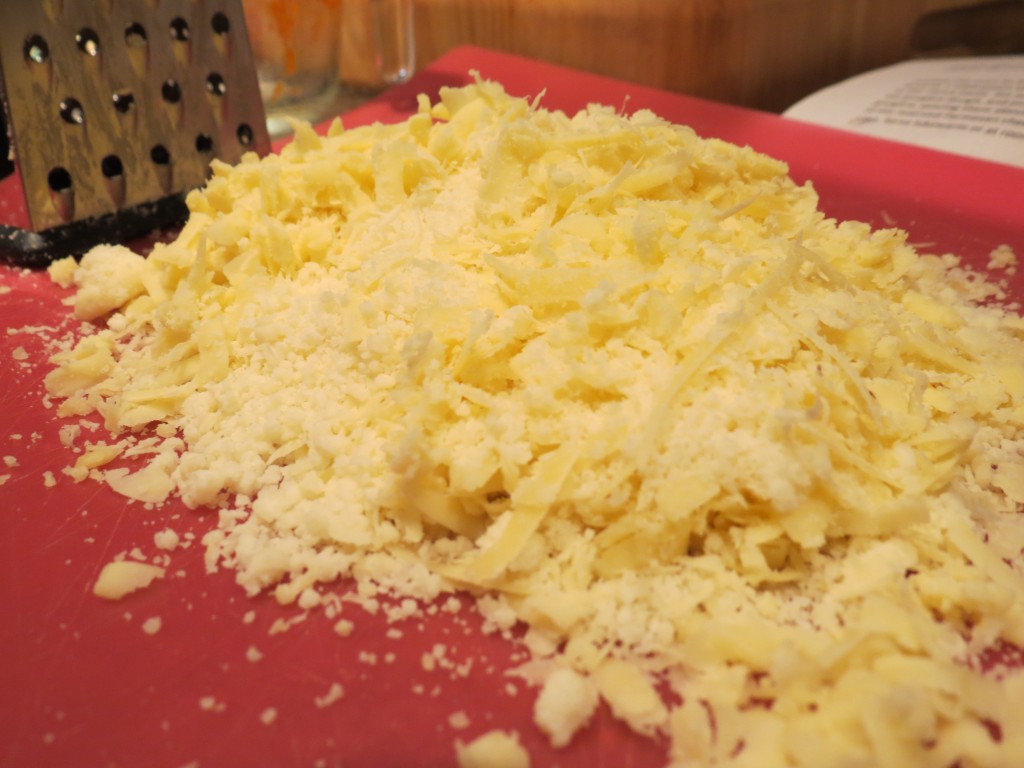 Reserving 1 Tbsp of Romano cheese for sprinkling, add the cheese to the choux dough and stir until incorporated. Using a tablespoon sprayed with non-stick cooking spray, drop the gougères onto a silpat (or parchment paper) lined baking sheets so that they are flat on the bottom and evenly rounded on the top. They will  puff up, so make sure you space them 1-2 inches apart on the baking sheet.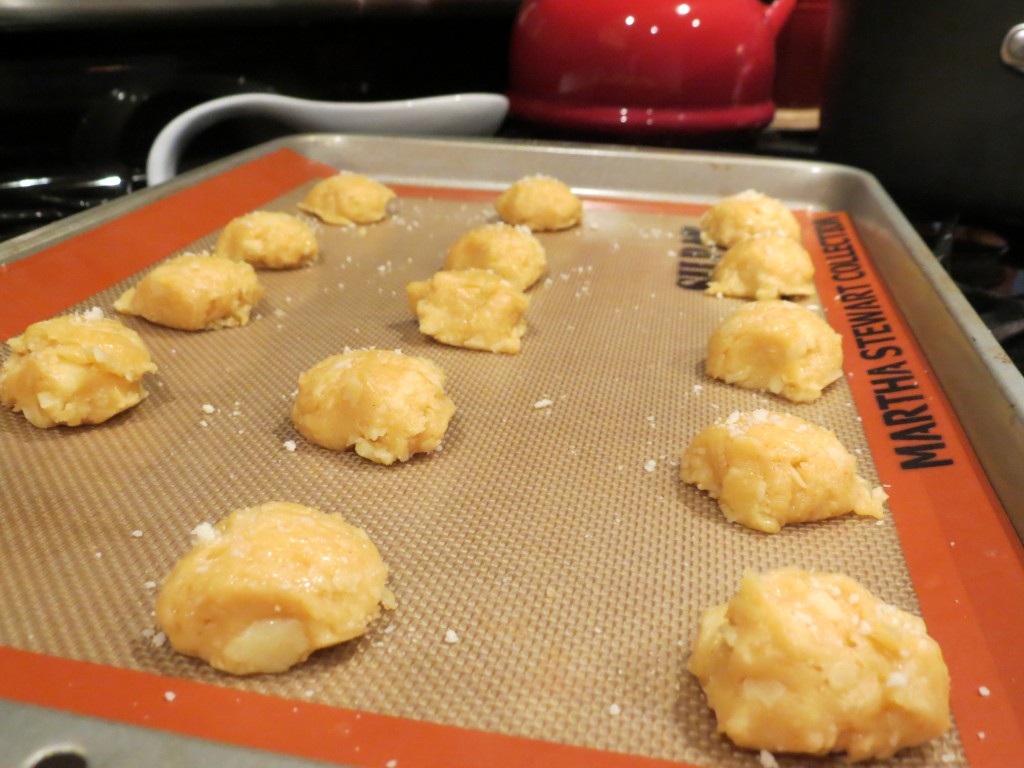 Sprinkle the tops with the reserved Romano cheese and bake at 375*F for 30 minutes, rotating your baking sheets between oven shelves half way through so they bake evenly.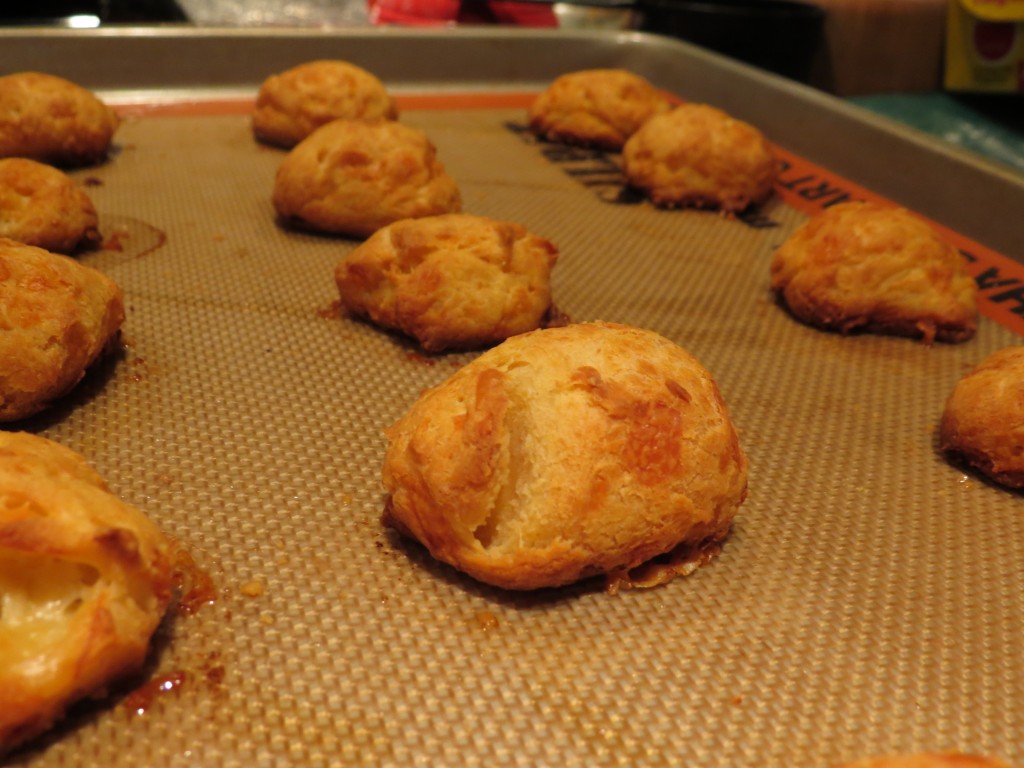 Serve at room temperature, or slightly warm. What results is a savory little 2-bite treat that is perfect for dipping into soup or enjoying on it's own. When you bite into it it's a light, fluffy pastry and you can see where the steam puffed the dough.Warning: these will go fast at a party! You might want to double the recipe if you have more than 6 people.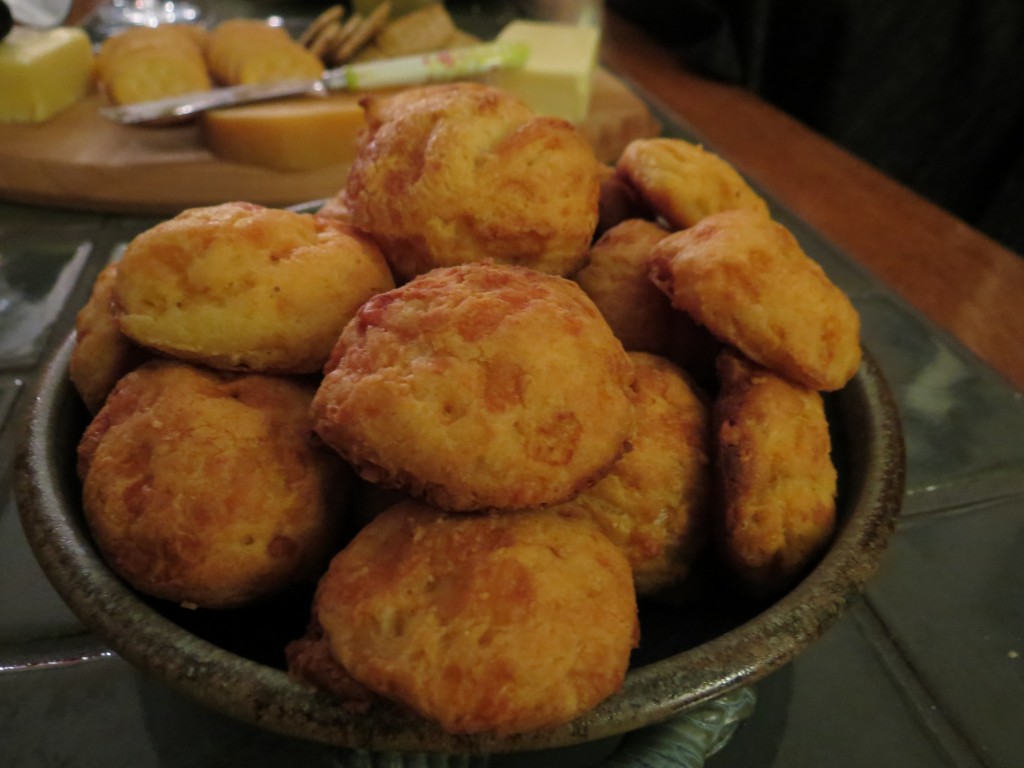 Happy New Year!