In the digital age that we live in, it shouldn't surprise you to hear that I do most of my grocery shopping online through Fresh Direct. Aside from amazing convenience and consistently great quality produce one of my favorite features is the "great right now" section with all the top rated, in season fruits and vegetables for the week. For the most part, that's how I decide what to get each week.
This week, ramps were on the list so I decided to try some! I learned from some research that ramps are wild leeks and have a taste that is somewhere between onion and garlic. They have a bulb similar to a spring onion and a leafy top that reminds me of spinach. What I didn't realize was that there aren't exactly a plethora of unique recipes out there for ramps. It seems like you have 3 main options: pickle them, make pesto out of them, serve them with eggs. After searching around and consulting some cooking friends, I decided to go for a light, springy recipe to celebrate the ramps: a frittata.
Now, I'm not going to re-hash all the reasons why I love frittatas (you can read them here). Tonight my frittata included: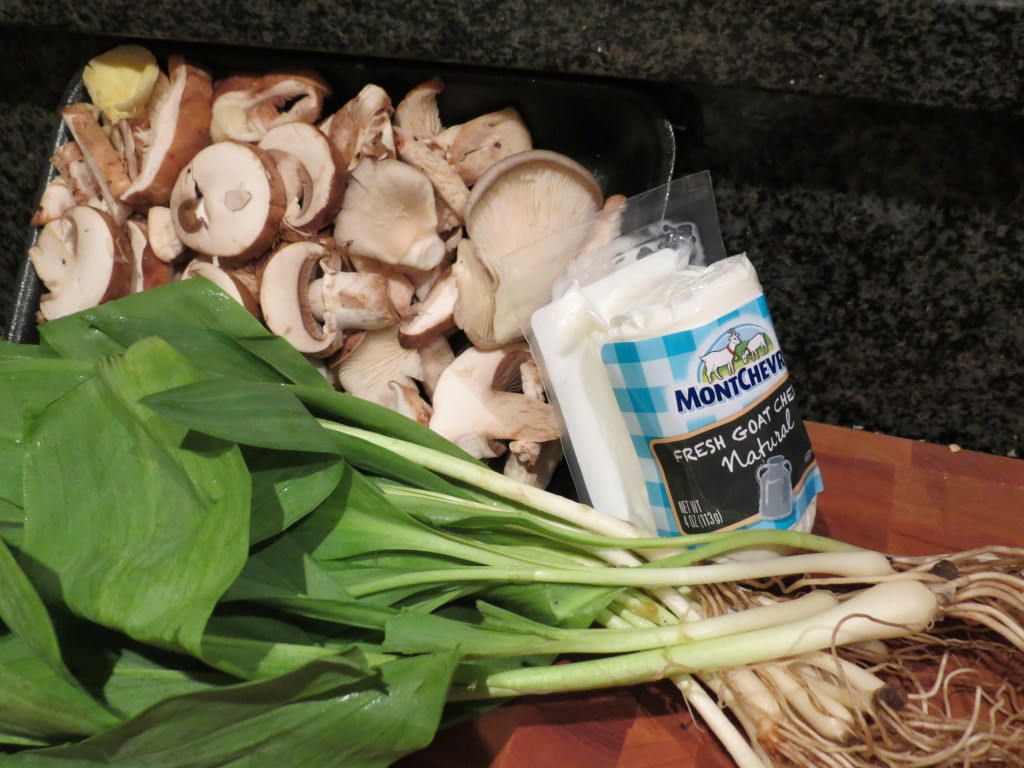 1 Tbsp vegetable oil (or olive oil)
4 oz mixed mushrooms
1/2 a bunch of ramps, washed, bottoms trimmed, and roughly chopped
1/4 tsp garlic salt
4-5 splashes worcestershire sauce
3 eggs
1/3 cup skim milk
1 1/2 tsp bouquet garni (or Italian seasoning)
2 oz goat cheese
The other thing you'll need is a non stick skillet that is ovenproof. I used a medium sized one because I was making dinner for two. Before you start the stove-top prep, preheat your oven to 375*F. Heat the oil in your skillet and add the bottom of the ramps (the parts that look most like scallions). Once the whites become translucent and the greens start to brown, add the mushrooms and garlic salt. Worcestershire sauce is my other trick for mushrooms. Just 4-5 splashes while they're cooking adds such a nice depth of flavor and compliments the earthiness nicely.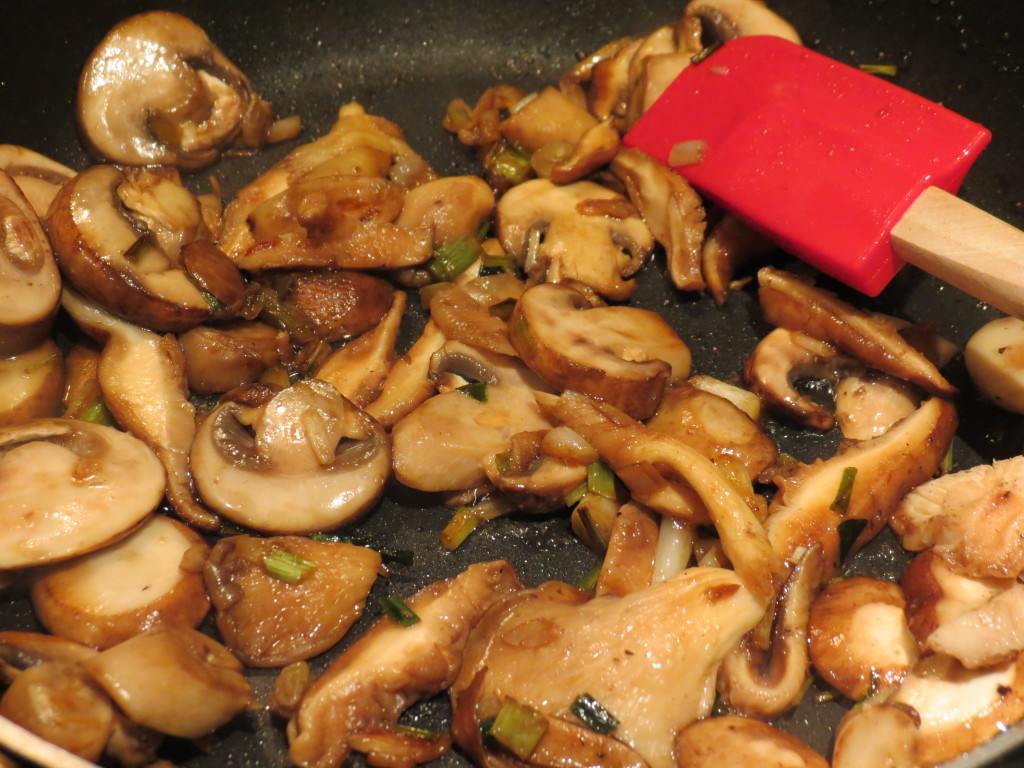 Once the mushrooms are cooked, add the leafy parts of the ramps.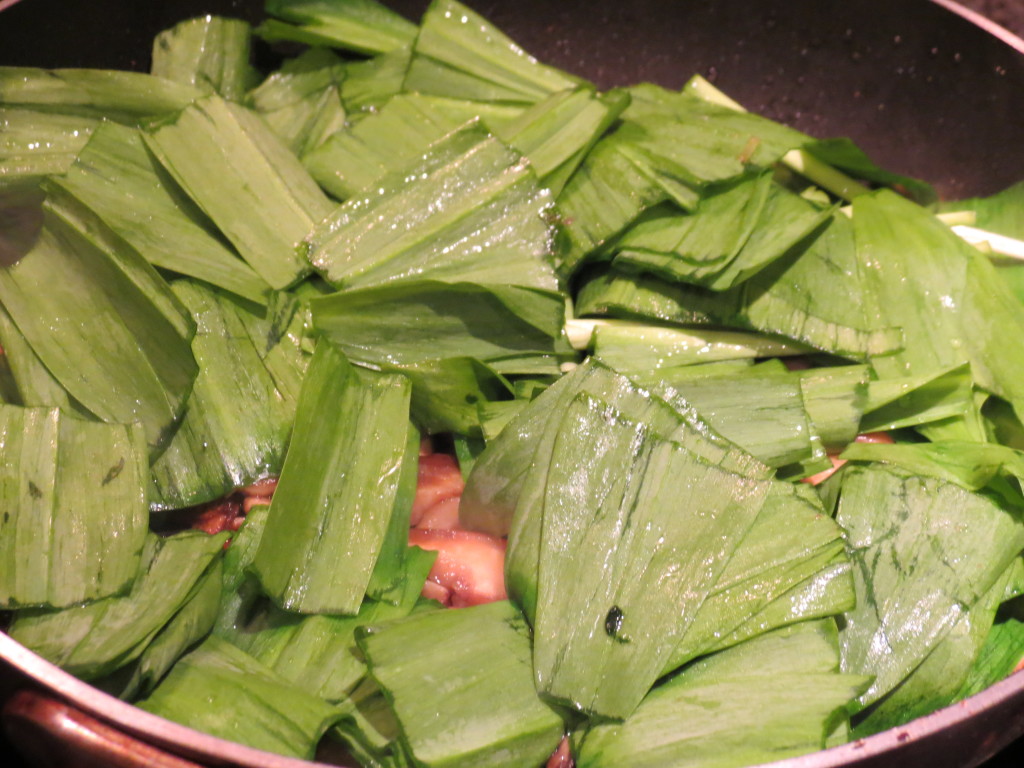 Don't be alarmed if your pan looks like it's going to overflow, these greens (like most others) will wilt down to almost nothing!
In a separate bowl, mix eggs, milk, and seasoning until well combined. I used bouquet garni because it's a great Italian style seasoning blend from Penzey's,but any type of pre-made Italian seasoning or whatever similar seasonings (basil, rosemary, oregano) you have in the cabinet will be fine- at the end of the day you're seasoning eggs. Once all the vegetables are cooked, spread them out evenly along the bottom of the skillet: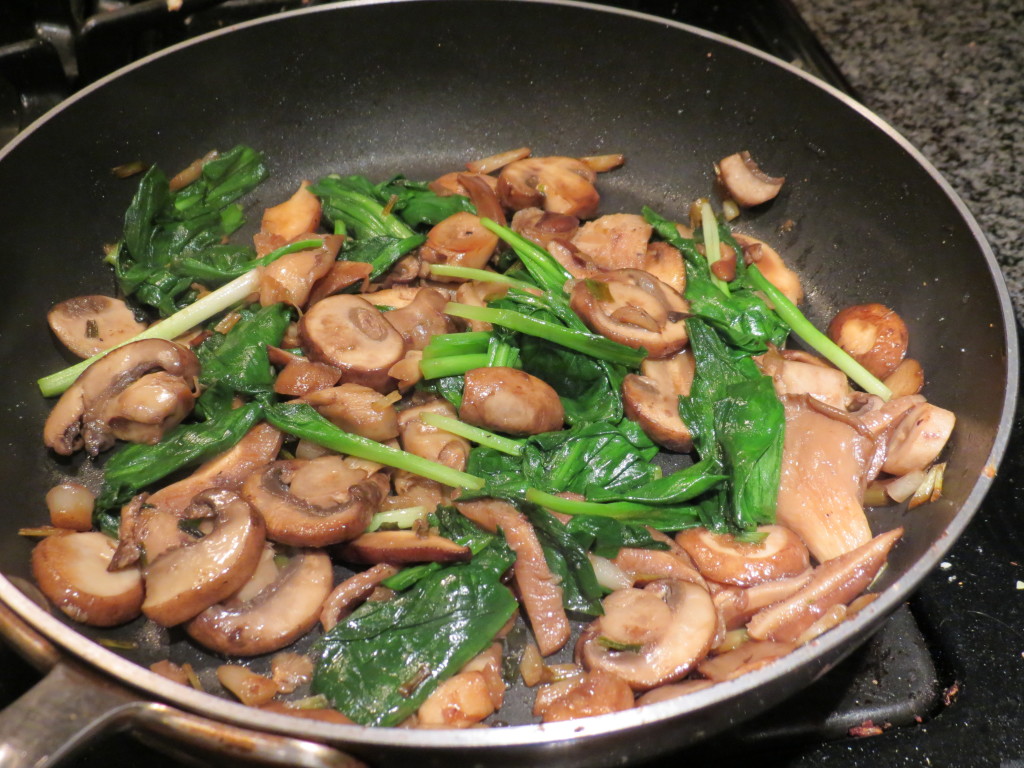 Pour egg mixture evenly around the skillet to coat veggies. Lower the heat to medium-low and crumble the goat cheese over the top.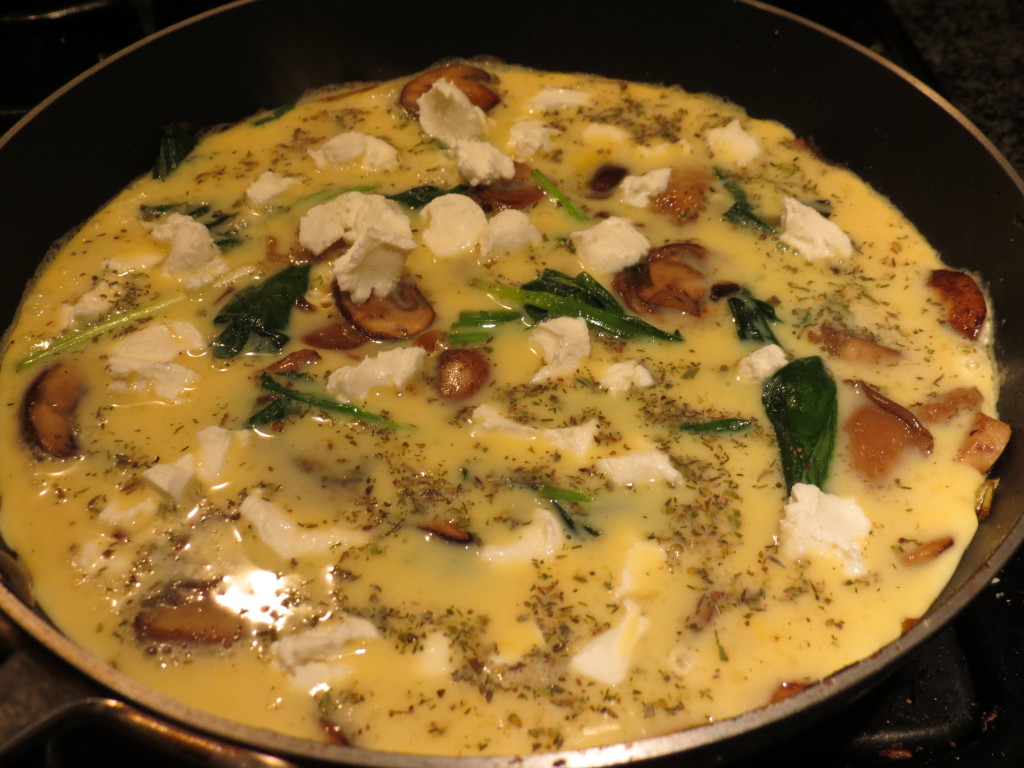 Move skillet to the top rack of the oven and cook for about 10 minutes or until the center is firm.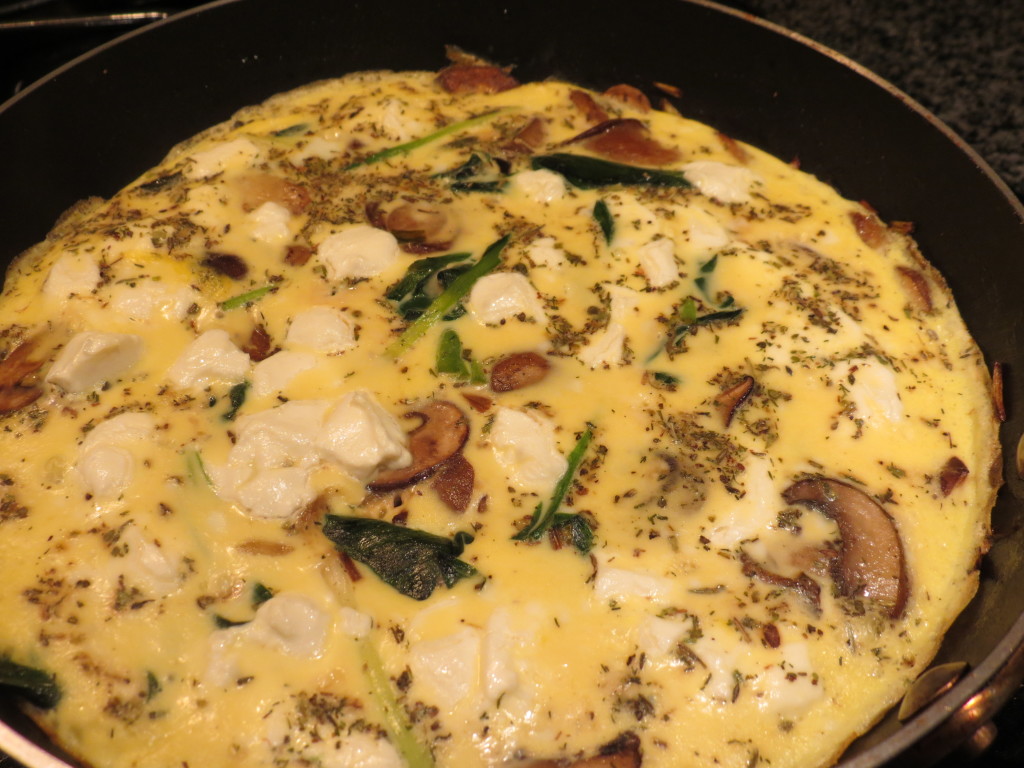 Be careful removing the pan because the handle is hot!! I can't tell you how many times I've burnt my hand because I forgot that the whole thing was in the oven and I accidentally grabbed the handle. You should be able to turn the whole frittata out on to a plate (the bottom always looks nice and browned with bits of the veggies peaking through.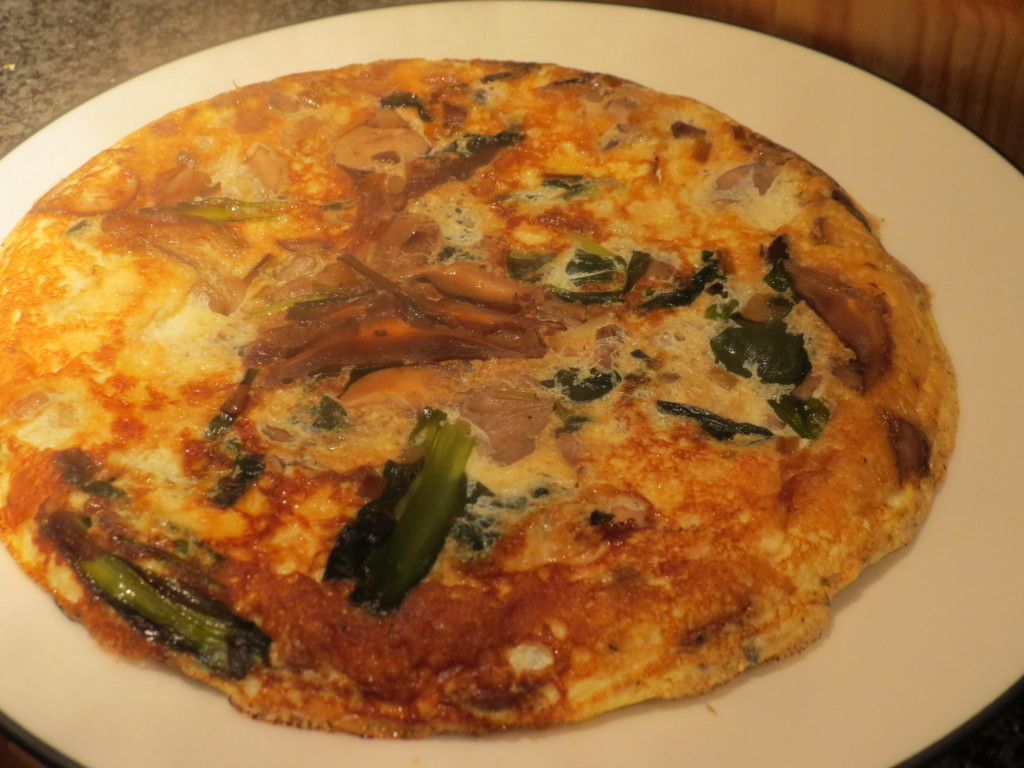 This is a great under 30 minute meal that you can eat at any time of the day. It was well received even with all it's veggies and we decided the ramps were a winner. Happy Spring! Make some frittatas!